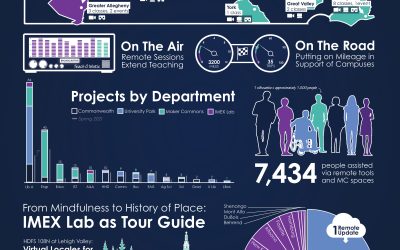 SummarySpring 2022 saw 7,434 students and faculty use the Media Commons, Maker Commons, and Immersive Experiences Lab initiatives across the Commonwealth. Much of this use was focused in 213 classes in nearly every discipline offered at Penn State. To facilitate these...
Looking to make your own infographics?
If you are liking what you're seeing here and considering making an infographic for your department, class, team or the like, we've put together a Tips + Best Practices resource just for you. Check it out to get up to speed on the thinking behind our own creations and learn how you can apply the same principles to your own.
Learn More