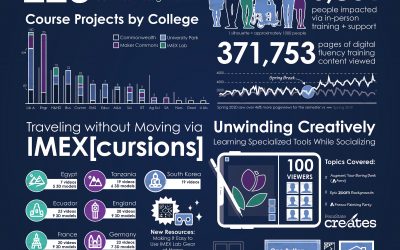 Spring 2020 Report Due to the novel coronavirus pandemic that caused Penn State to switch to remote learning beginning March 16th, several Media Commons, Maker Commons, and Immersive Experiences Lab services had to quickly change processes to adjust to the new...
Looking to make your own infographics?
If you are liking what you're seeing here and considering making an infographic for your department, class, team or the like, we've put together a Tips + Best Practices resource just for you. Check it out to get up to speed on the thinking behind our own creations and learn how you can apply the same principles to your own.
Learn More