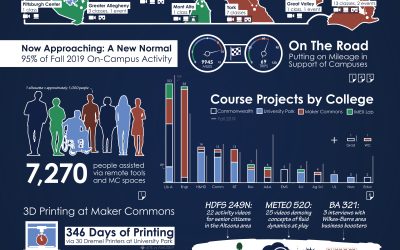 Due to the ongoing COVID-19 pandemic, Penn State provided enhanced flexibility to faculty and students to choose how they wanted to teach and learn during the Spring 2021 semester. While some classes were held in-person, others were entirely online, and many more were hybrid in numerous ways.
Looking to make your own infographics?
If you are liking what you're seeing here and considering making an infographic for your department, class, team or the like, we've put together a Tips + Best Practices resource just for you. Check it out to get up to speed on the thinking behind our own creations and learn how you can apply the same principles to your own.
Learn More