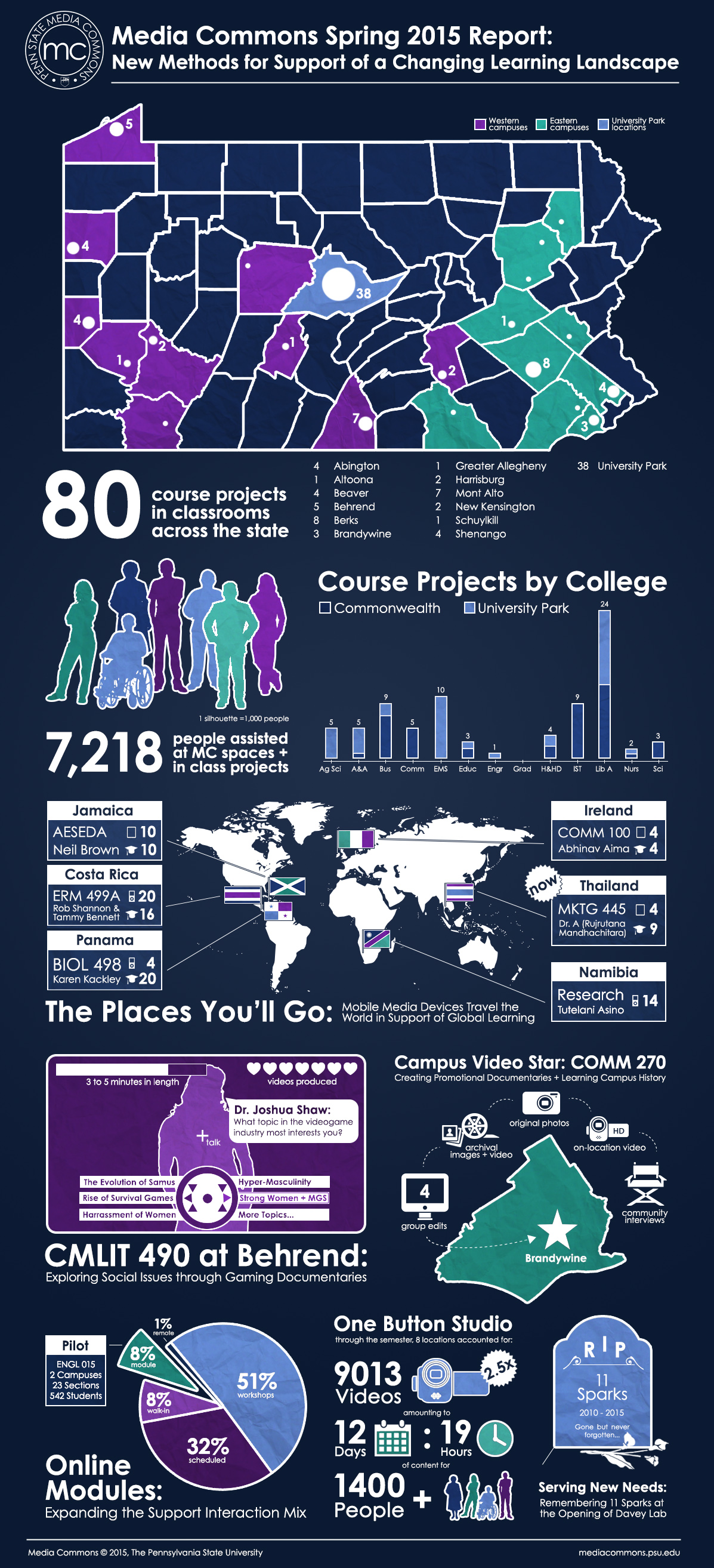 Happy June, everyone! Now that Spring 2015 has come and gone, Media Commons staffers have turned their attention to the semester that was in order to reflect on some of the trends that were most notable. Without further ado, then, we give you the Spring 2015 infographic and report…
Media Commons provided support for over 7,200 people in-class and in our dedicated spaces during the Spring, an increase of about 300 people over the same semester in 2014. The divide between the number of projects bringing these individuals to Media Commons was split almost 50/50 between University Park and the Commonwealth campuses, with 42 coming from the latter out of a total of 80.
Liberal Arts continued to be the #1 source of media projects, resulting in 24 this past Spring. Interactions with Earth and Mineral Sciences faculty netted 10 projects, securing the #2 spot while Smeal College of Business and Information Science and Technology courses tied for #3 with 9 projects each.
The Spring 2015 semester saw 4 mobile media kits embarking on a trip abroad with students from New Kensington, Beaver and Berks, all traveling together to Thailand. These iPad minis (and their accessories) join a long line of Media Commons mobile devices that have traveled the world, being part of "a class" of 56 iPods and iPads that has logged trips to six countries since our pilot began back in Spring 2011. As mobile continues to shape the future of our work and students' expectations – and the University looks to increase its presence as a global academic institution – we expect many more media projects leveraging first-hand learning in other countries to document the experience of students with our devices.
At Penn State Behrend, Dr. Joshua Shaw's CMLIT 490 course on video game culture asked students to document their own experiences with both favorite franchises as well as with wider social issues evidenced in the gaming industry and amongst its fans. This first-time project netted seven strong videos from groups and individuals (example) and accounted for multiple consultant visits to Erie for training, consultation and critique during the Spring.
Students in COMM 270 at Brandywine worked with archival materials, interviews with community members, on-location video production and much more to produce four top notch campus mini-documentaries. These short films will serve as both promotion for Brandywine but, more importantly, acted as an excellent activity to get students engaged with learning about their own campus history and its place in the region.
In an effort to continue making Media Commons training and resources available to as wide a population as possible in the most convenient manner available, our interactive training modules were rolled out as part of an expanded pilot (originally begun in Fall 2014). Half of all students enrolled in ENGL 015 at University Park (and one section at Altoona) were given access to the MC Overview and iMovie Training modules via their ANGEL courses. This pilot alone represented 8% of all support activities and provided a flexible way of learning needed media skills to 542 students.
One Button Studio at Media Commons locations across the Commonwealth continues to grow in usage each term. This Spring was no different. Over 1400 faculty, staff and students recorded nearly 13 days of video across more than 9000 recordings, a 2.5x increase over Spring 2014.
In preparation for the opening of a new, highly accessible Media Commons University Park location at Davey Lab, the 11 Sparks editing space that had been part of our family of offerings for five years was closed in Spring 2015. While it's bittersweet to say goodbye to the room in Sparks, providing support for so many more students in the new locale across from the HUB is very exciting for the UP staff.
To get further details about Spring 2015 highlights and much more, download our full report: