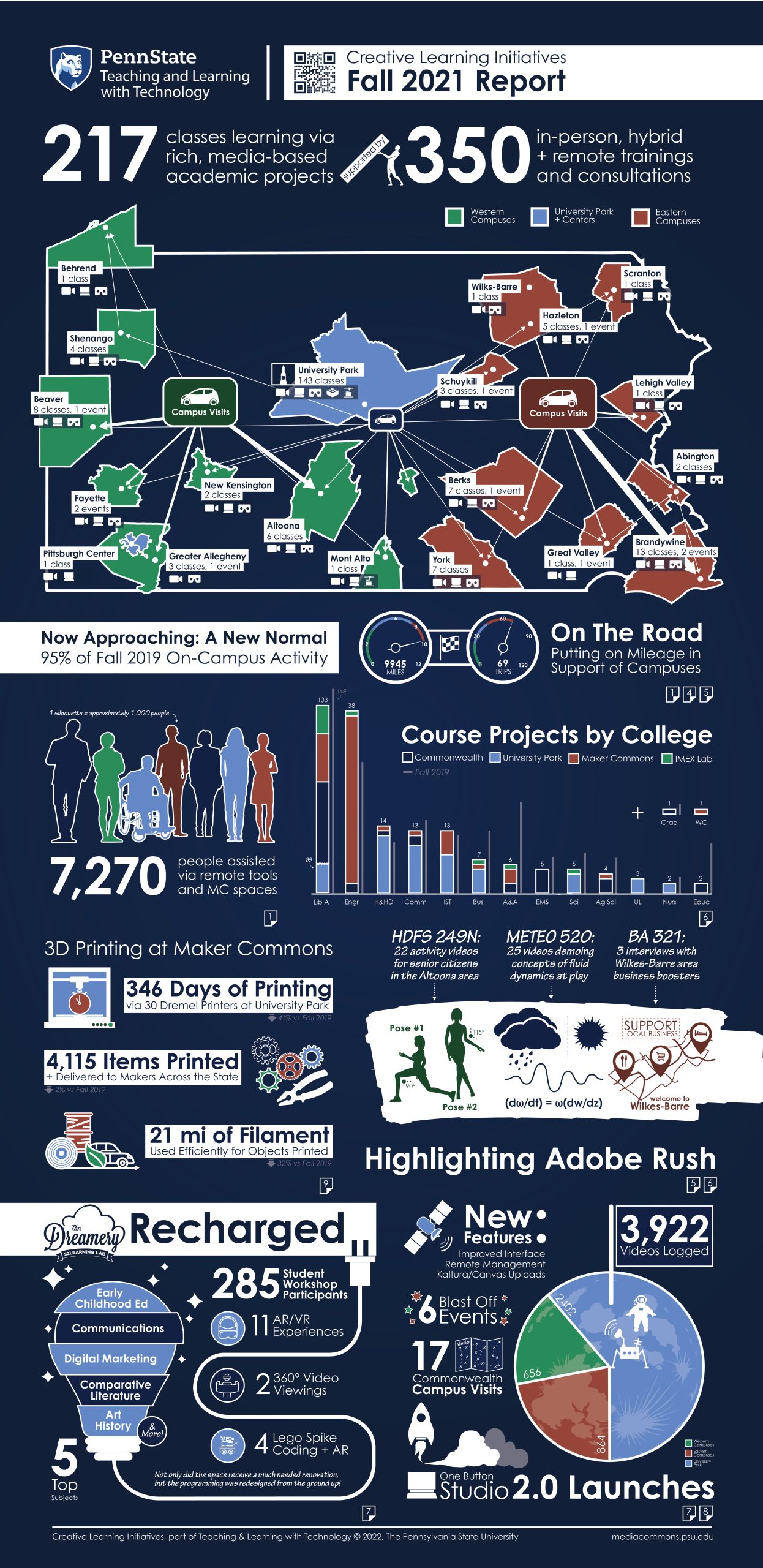 please refer to report pages referenced in the ↑ infographic – and click on it for a high quality .pdf
The Fall 2021 semester represented a gradual return towards pre-pandemic normalcy both in the ways that classes, faculty, and students wished to use Creative Learning Initiative (CLI) resources and services and the way in which these resources and services were delivered. It is notable that continuing to offer remote and hybrid options has become a standard aspect of the service. CLI was also able to re-open and re-establish locations, resources, and services that had remained closed during the pandemic including virtually all One Button Studios, the Immersive Experiences (IMEX) Lab, and more across the commonwealth.
Fall 2021 saw 7,270 students and faculty use the Media Commons, Maker Commons, and Immersive Experiences Lab initiatives across the Commonwealth. Much of this use was focused in 217 classes in nearly every discipline offered at Penn State. To facilitate these interactions outside of University Park, traveling consultants offered 186 remote sessions to provide instruction, consultations, and support.
Over the course of the semester, nearly all One Button Studios were upgraded to the newly released One Button Studio 2.0, which offers several new enhancements and stability updates. This rolling update period returned the vast majority of One Button Studios to active use after being shut down during the pandemic. One Button Studio 2.0 helped students and faculty create 3,922 academic videos, comprising over 97 hours of video. In addition, students from across the Commonwealth created 4,115 3D prints in pursuit of their course work and their own curiosity.
The report that follows breaks down our interactions with students and faculty and examines engagement levels with services offered, locations, and by individual colleges. Throughout the report, we'll draw attention to exciting assignments, surprising class partnerships, and interesting observations from the semester – stories that tell the ways in which Penn State faculty and students are pushing the boundaries of education into the future. We also point out usage and technology trends that draw from Media Commons' proven history in supporting multimedia and emerging technology as well as reflect on challenges and opportunities in the coming semesters.
Faculty and students used Media Commons and Maker Commons services in a variety of ways in all of our locations over the course of the semester. These charts count how many people were aided by our consultants in either 1-on-1 consultations or in-class workshops.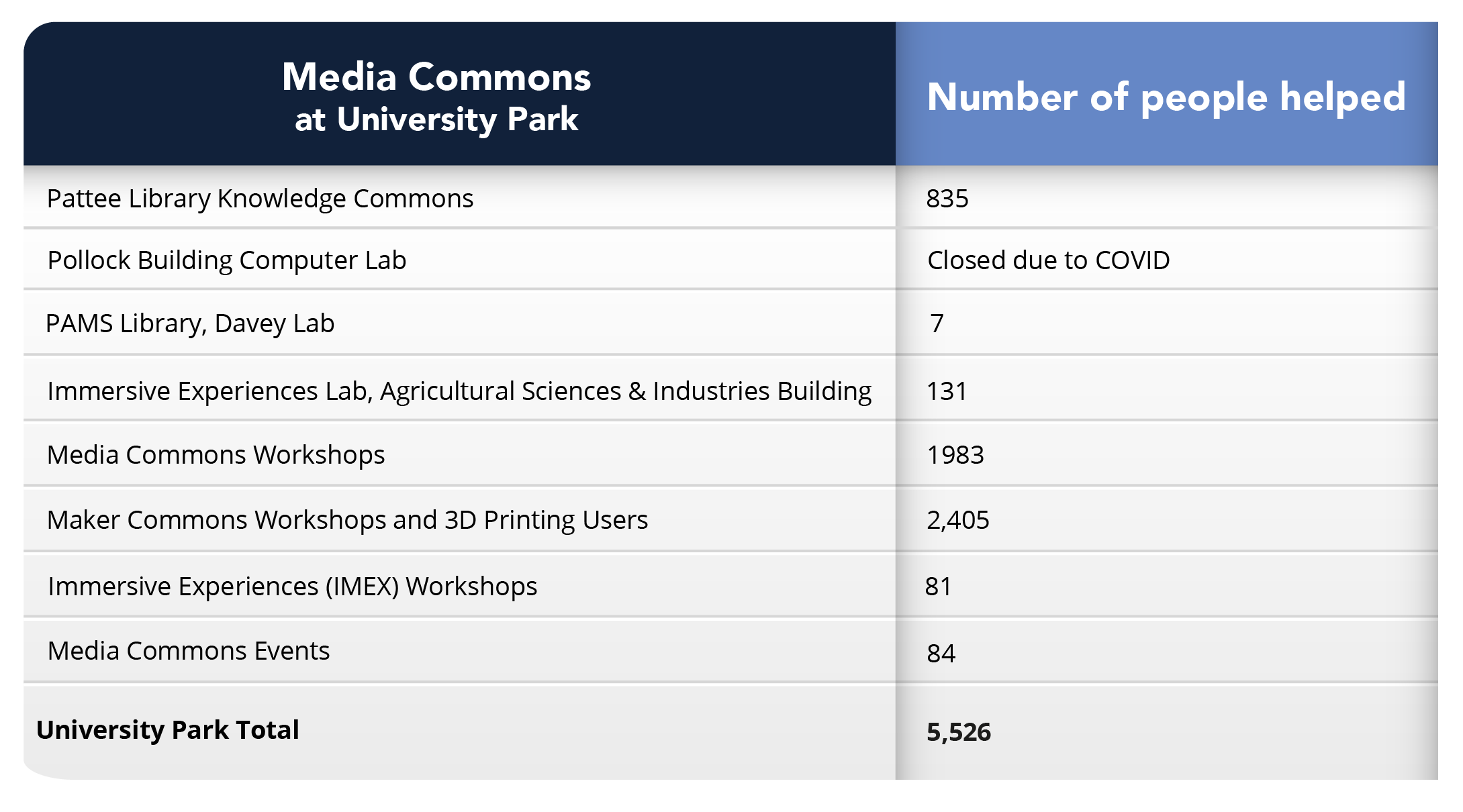 University Park Technology Breakdown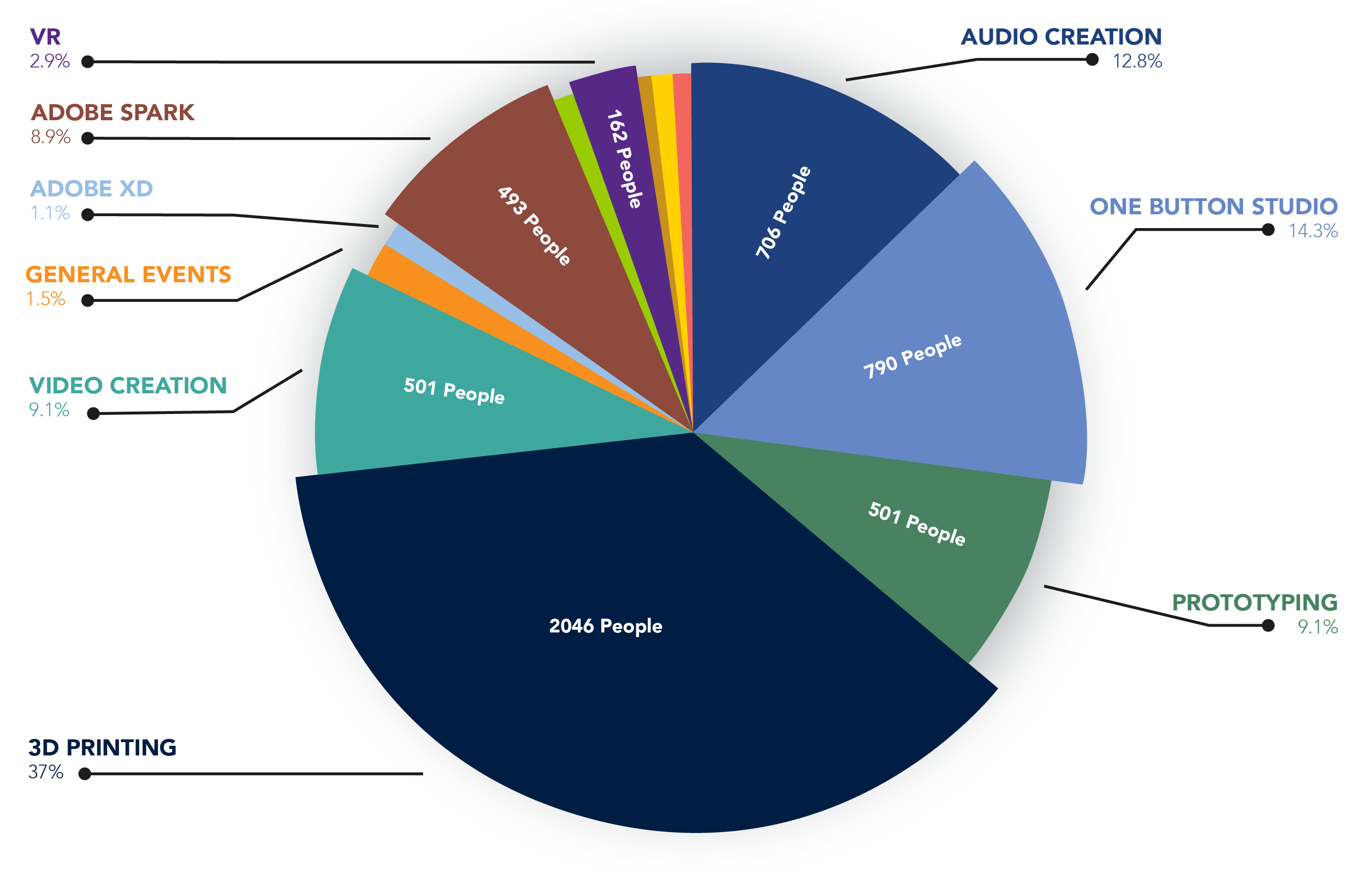 The Immersive Headset Pilot program was launched at University Park with the goal of engaging faculty to utilize virtual reality technology in the classroom and to help them create assignments that explores the potential impact this technology could have on  learning. Dr. John Messner, Professor of Architectural Engineering, College of Engineering led one project to facilitate a group collaborative exploration using the VR apps "Arkio" and "Multibrush" with his graduate students in his AE575 Virtual Facility Prototyping course. Two groups of twelve students joined together in the same virtual spaces to create 3D architectural models and to make interactive and shared art.
Campuses often don't have their own local Media Commons support and so rely on our consultants to visit campus to work with faculty and provide workshops for students. We host several tailored faculty events each semester to discuss opportunities and visit campuses as often as possible to support class partnerships.
* In-Person Visits include travel to campus for equipment and computer service and/or One Button Studio tune-ups. 
† Remote Sessions denote online teaching workshops, faculty consultations, meeting with students, hosting events, critiques of project materials uploaded to Canvas, OneDrive, etc.

Featured Stories
The library at Penn State Fayette kicked off the Fall semester by hosting an open house highlighting many resources, including their new Quest 2 VR headsets and IMEX Lab viewing pods. This debut for students and faculty will mark the beginning of an ongoing partnership with the library to encourage immersive adoption in the campus community.
For the ninth year running, BIOL 220W students at Penn State Beaver created regionally significant short documentaries that highlighted issues related to sustainability and environmental conservation. Working in five small groups, Cassandra Miller-Butterworth's class looked at the impact of spotted lantern flies, degradation of water quality, air pollution, urban sprawl and oil exploration. (This also marks the handover of this project to Autumn Sabo.)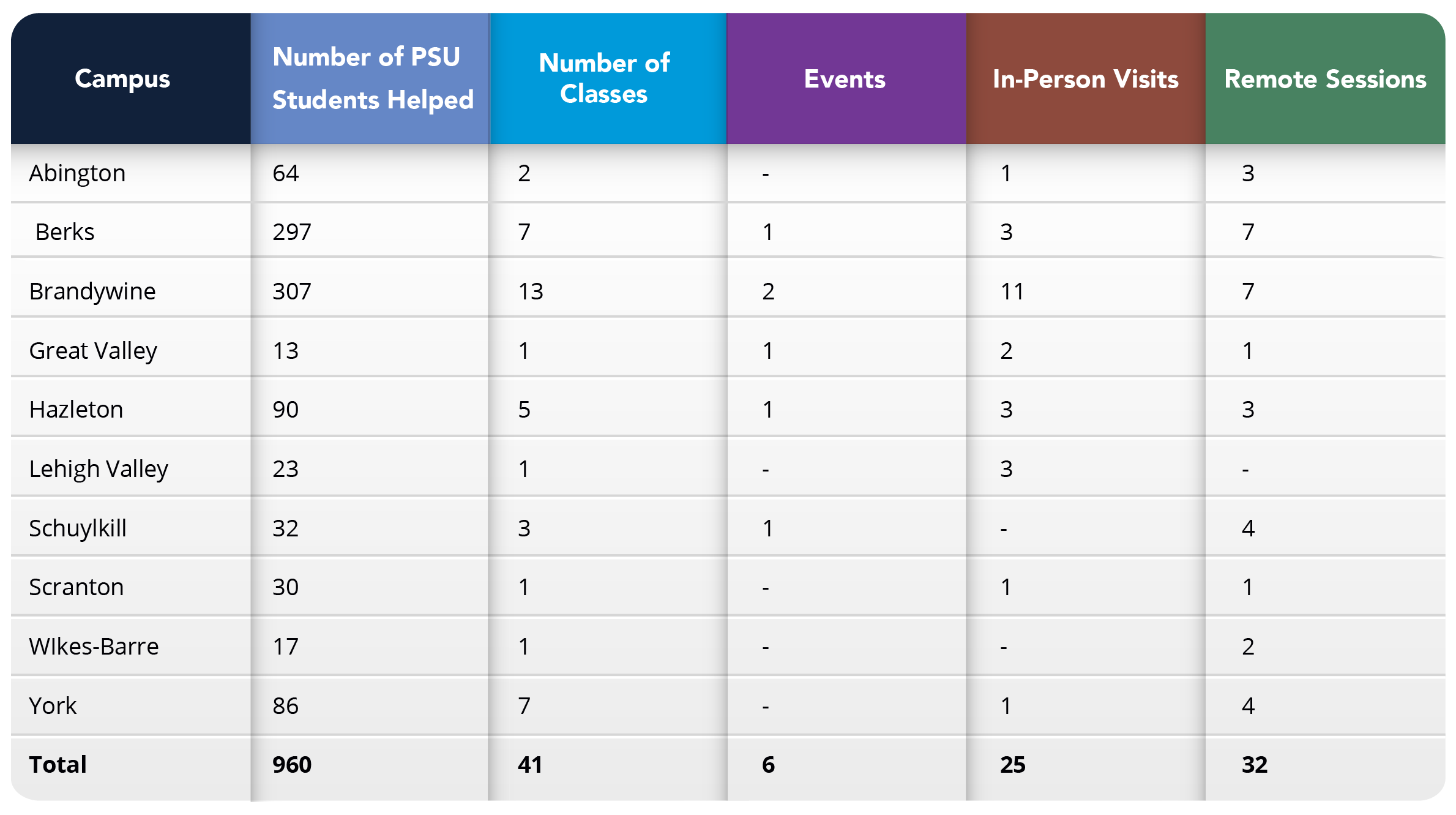 * In-Person Visits include travel to campus for equipment and computer service and/or One Button Studio tune-ups. 
† Remote Sessions denote online teaching workshops, faculty consultations, meeting with students, hosting events, critiques of project materials uploaded to Canvas, OneDrive, etc.

Featured Stories
In collaboration with another staff member from TLT, Media Commons supported Theresa Clemente's BA 321 class at Penn State Wilkes-Barre. Students were tasked with interviewing local business leaders, via Zoom. The students edited the interviews using Adobe Rush. The completed videos were added to an interactive Ecosystem Map through Google. This resource will continue to be developed and used by community organizations.

Class Partnerships Across Colleges
Media Commons consultants partner with faculty from every college at Penn State to help design multimedia and making assignments, provide workshops for students, and 1-on-1 consultations as the students complete their work. This table represents how many classes were worked with in which colleges during the semester.
Partnered Service Key: Media Commons = MeC, Maker Commons = MaC, Immersive Experiences Lab = IMEX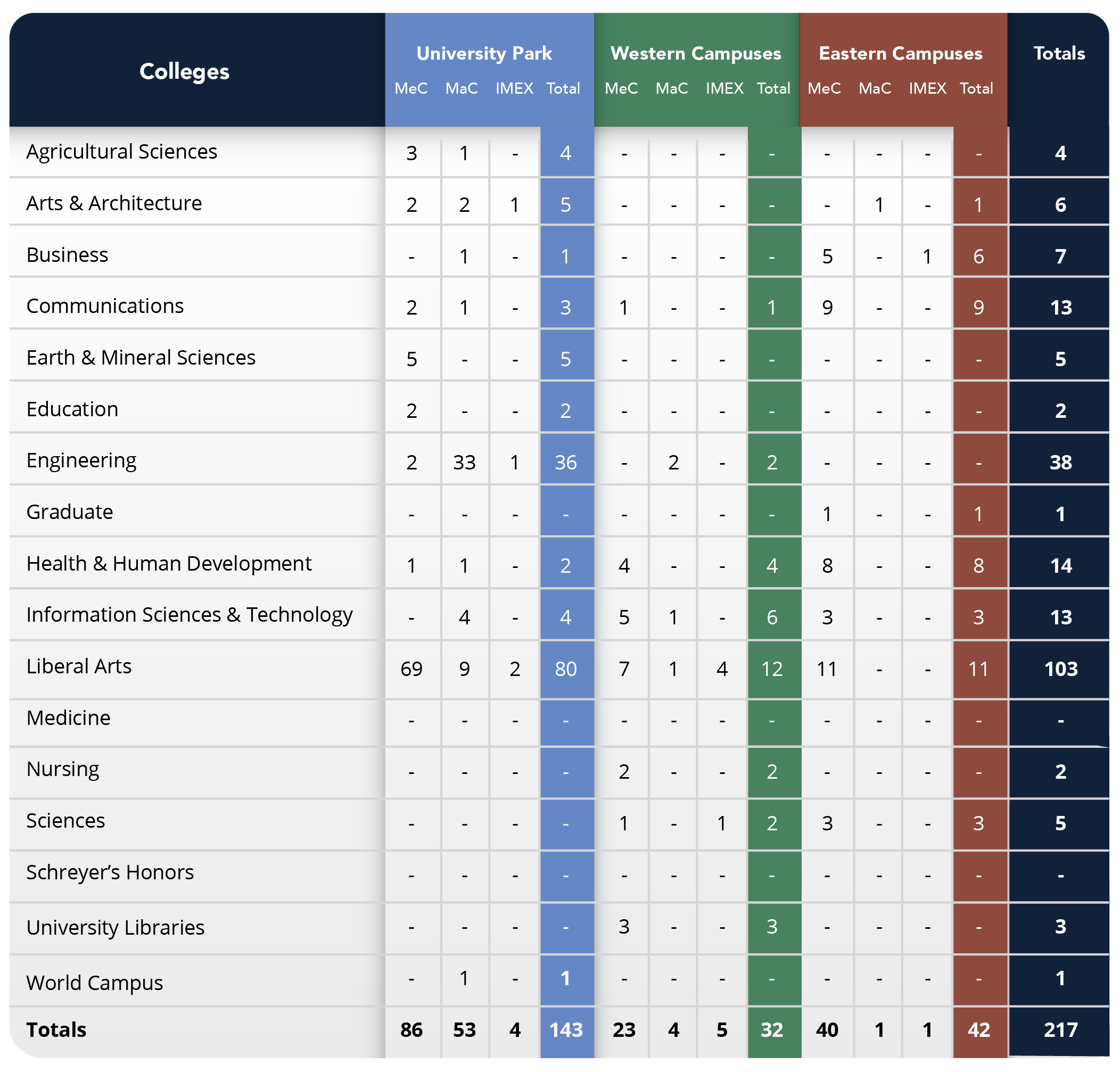 Featured Stories
HDFS 249N

at

Penn State Altoona

saw professor Kelly Munly's students creating a variety of activity videos for local senior citizens who they would ordinarily visit in-person to lead in enrichment programming. Students developed instructional content focused on

yoga

, arts and crafts, physical therapy and more across

22 group and individual projects

.

Margaret Crowley Hoffman's

HORT 269

at

University Park

students used Thinglink and Quest 2 headsets to debut

landscape design proposals

to local community clients as the culminating course experience of a Faculty Fellows project that combined efforts from consultants at University Park and western campuses.

At

University Park

, Dr. Raymond Najjar's (professor of oceanography)

METEO520

(Geophysical Fluid Dynamics) students from the College of Earth and Mineral Science experienced a video editing workshop using Adobe Rush. They learned to reduce their video speed to more effectively highlight demonstrations of fluid phenomena.   
Dreamery Experiences
With the University reopening to in-person learning coupled with the Dreamery coming off a space revitalization, the Dreamery reopened its doors to faculty and students for the Fall 2021 semester. Not only did the space receive a much needed renovation, but the programming was also redesigned from the ground up. The Dreamery saw 280 unique students come through its doors from a variety of disciplines, including: Early Childhood Education, Communications, Digital Marketing, Comparative Literature, Art History, and more! Students participated in facilitated workshops ranging from AR and VR  experiences to 360 video viewing parties and Lego Spike coding workshops.
One Button Studio 2.0
Nearly all 22 One Button Studios, located across the commonwealth, were updated to version 2.0. This update included new equipment in some locations and software upgrades at each location. In addition, TLT collaborated with User Success to establish new remote update policies and deployment mechanisms using JAMF, a mobile device management system, greatly reducing the time it takes to release current and future updates.
One Button Studio: On Campus + At Home
Media Commons supports the One Button Studio project across campuses and students in remote locations. The One Button Studio allows students and faculty to simply create quality academic videos, often for recording presentations, lectures, and demonstrations, or completing class assignments – both in-persona and via best practices to apply at home via Zoom.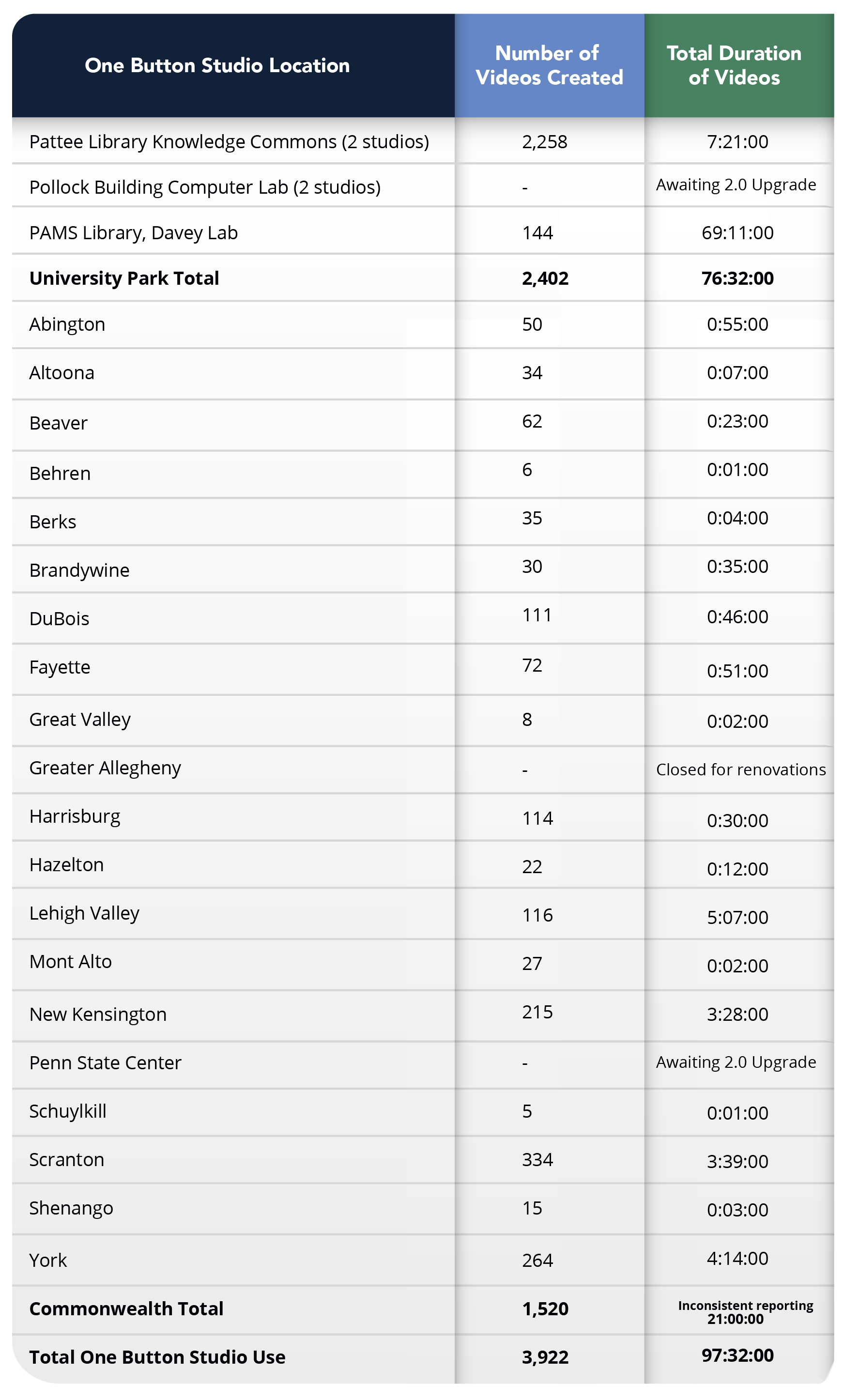 The Maker Commons offers students at University Park, the Commonwealth Campuses, and World Campus access to 30 3D printers through an online submission process. The printers are located at University Park but, through a partnership with University Libraries, are able to ship prints to any student for easy pick-up.

Featured Story
The largest academic group utilizing our 3D printing services was the Engineering Design, Technology, and Professional Programs department with 18 sections of EDSGN 100 registered for class printing with an estimated 1,211 total prints. These class assignments ranged from designing and printing housing and structures for a scaled-down automated irrigation system, to small accessories for a wooden figure, to solar-powered car prototypes.
Website as a Central Support Tool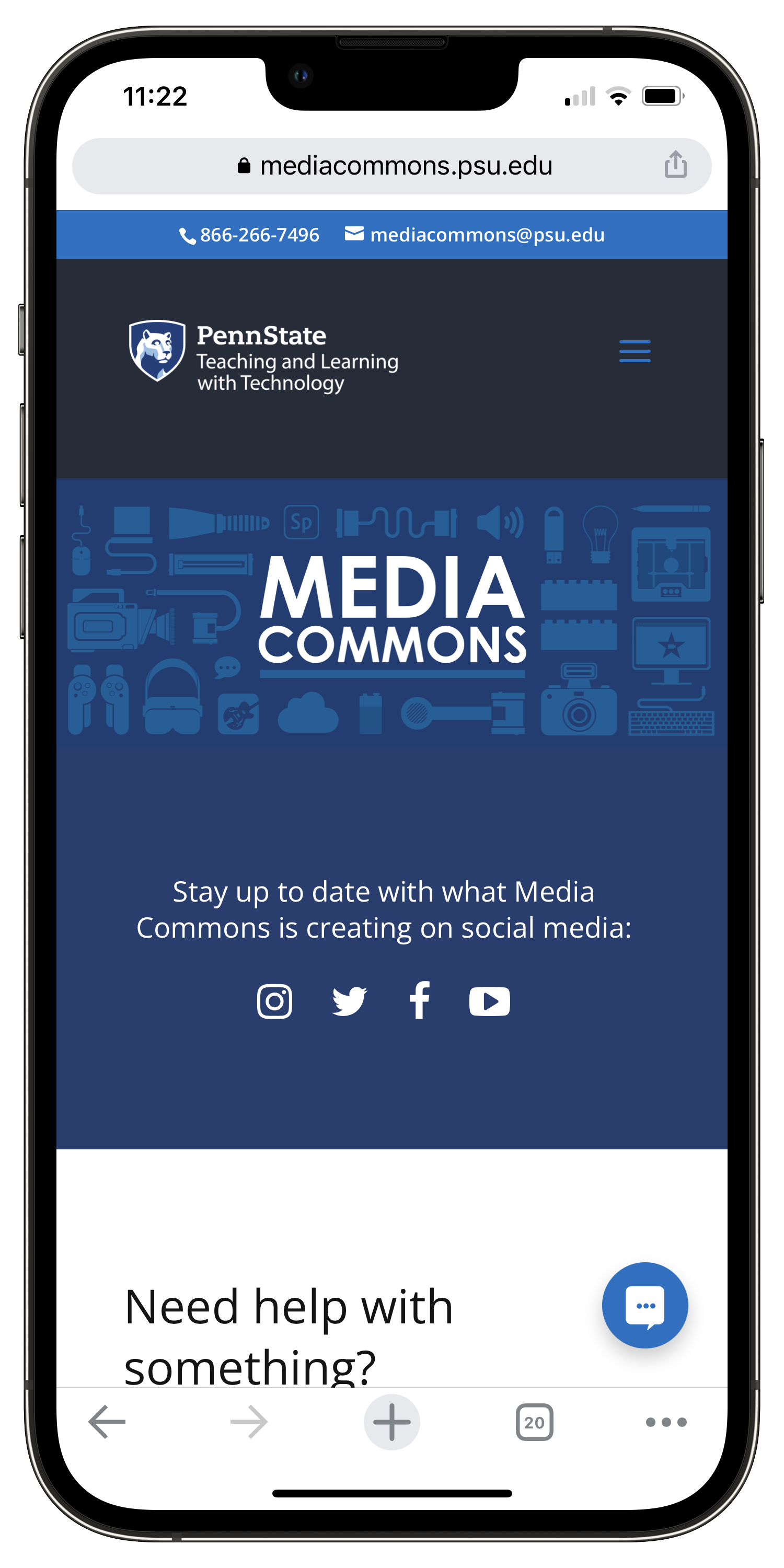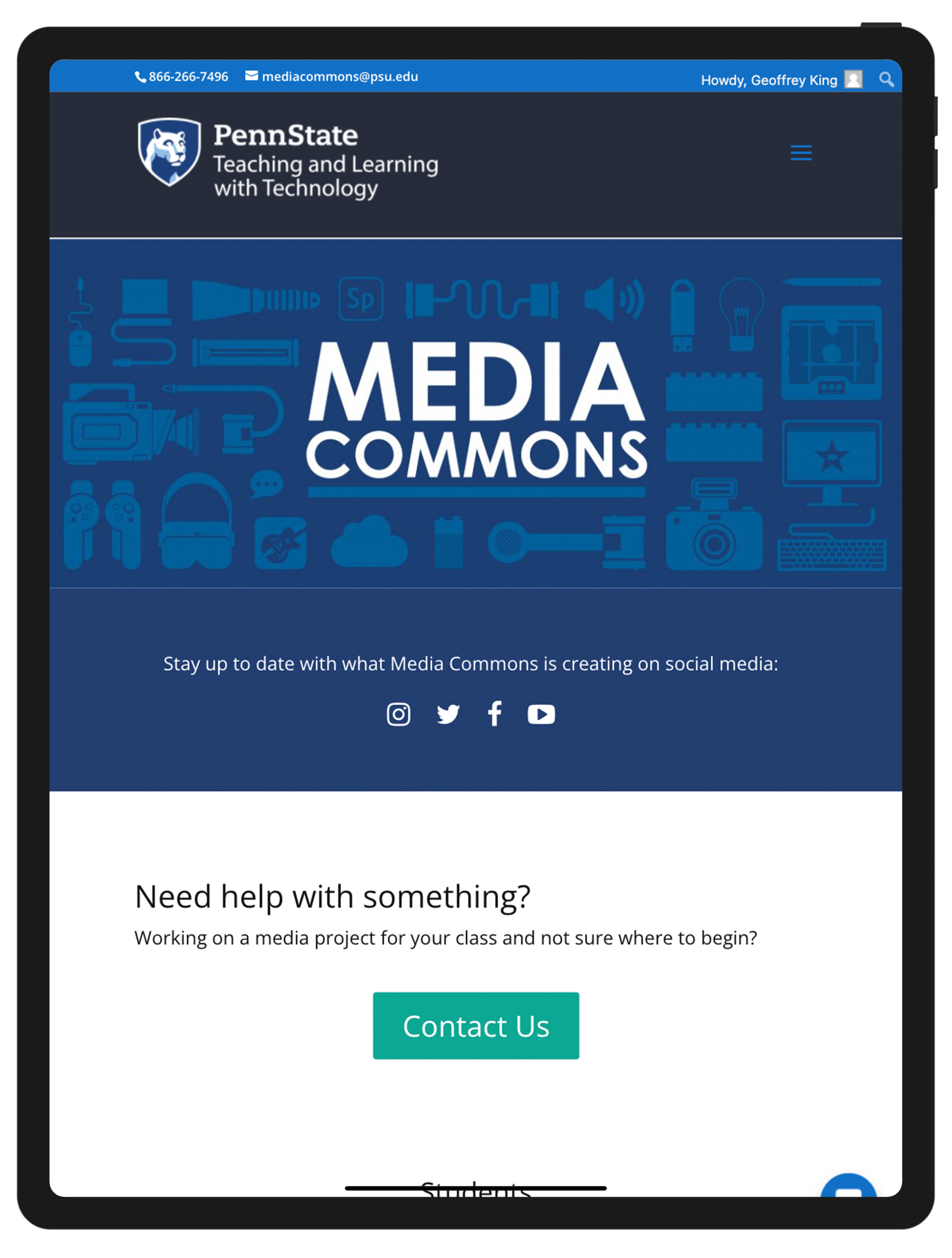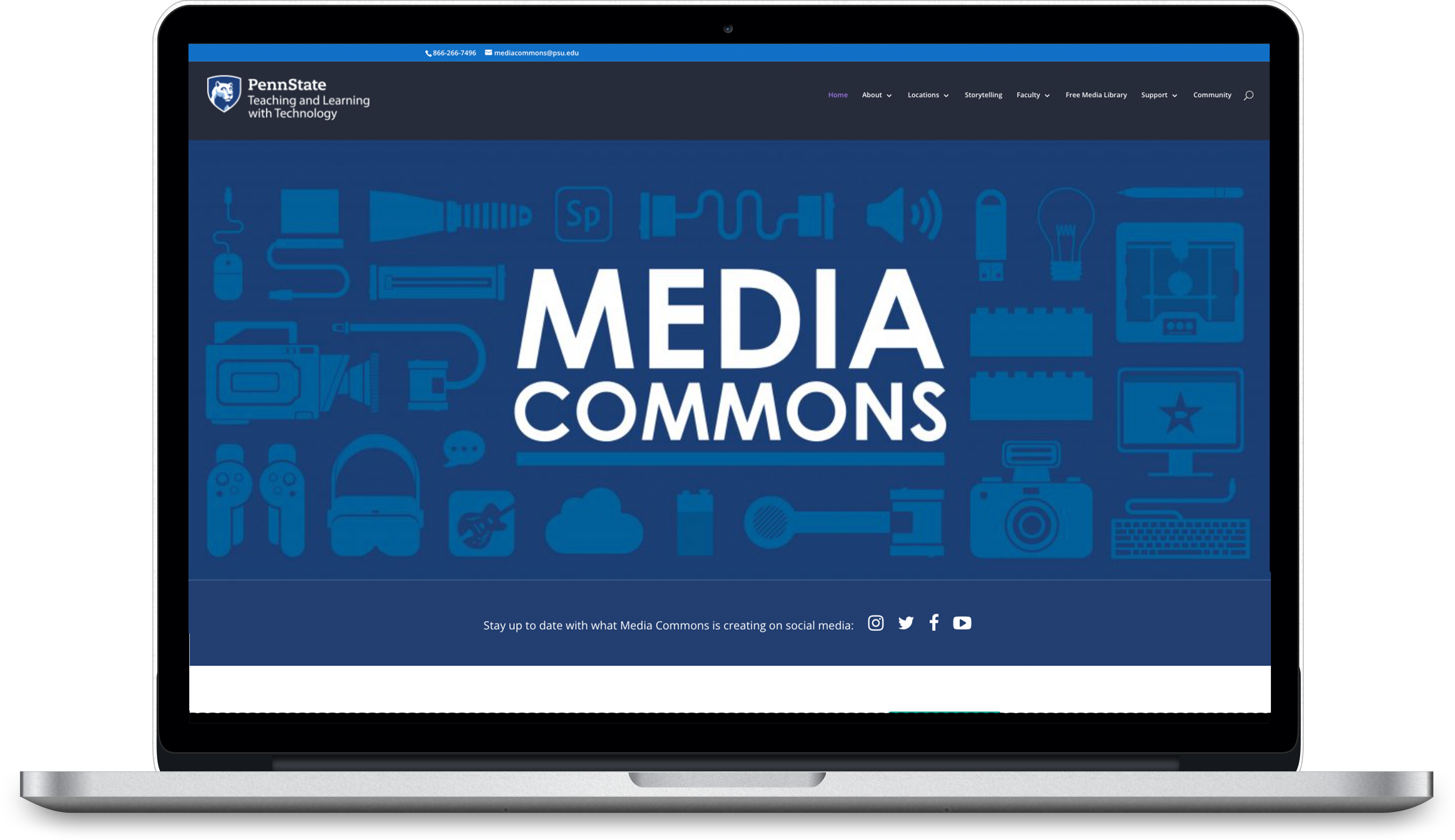 The Creative Learning Initiatives online resources have shifted in their role as the central focus of all training and support with the renewed emphasis on in-person modality in Fall 2021. Comparing traffic year over year, visitorship is down just over 25%, though largely via the Media Commons site as both the very presence-focused sister offerings, IMEX Lab and Maker Commons saw visitorship growth in the 150% range. This very likely points to more in-person Media Commons instruction lowering student visitation of the site while a return to offering IMEX Lab viewing and equipment lending and access to Maker Commons tools raising student interaction with website information.
The number of unique visitors reached 163,309 across all three services:
• 146,656 via Media Commons (-%36)
• 5,200 via IMEX Lab (+%158)
• 11,453 via Maker Commons (+%149)
The pageviews for Media Commons reached 293,157 encompassing popular content including:
• Exporting Your iMovie Project (-49%)
• Public Service Announcement (-7%)
• Free Media Library (+23%)
IMEX Lab pageviews reached 11,312, representing popular content including:
Factory Reset Oculus Quest 2 (N/A, new content)
Experience Catalogue (-2%)
Advanced Manufacturing VR Tour (+26%)

Maker Commons pageviews reached 84,463 representing dramatically increased views of the following content:
• 3D Printing (+230%)
• Picking Up Your Print (+768%)
• 3D Printing Information (+288%)
Challenges, Opportunities & Notable Trends
A significant notable trend measured during the Fall 2021 semester was an apparent approach towards pre-pandemic levels of normalcy in our engagements. In evaluating a combination of campus trips, classroom partnerships, number of people helped, and interest in 3D printing, we estimate that Fall 2021 achieved 95% of the level of engagement by our students and faculty last seen in Fall 2019. 
Should this trend continue into Spring 2022, we will expect to have returned to pre-pandemic levels of activity. This will provide us with the Summer of 2022 to reflect on our capacity for service offerings and new projects and enter a new phase of strategic planning for the Creative Learning Initiatives collection of services.