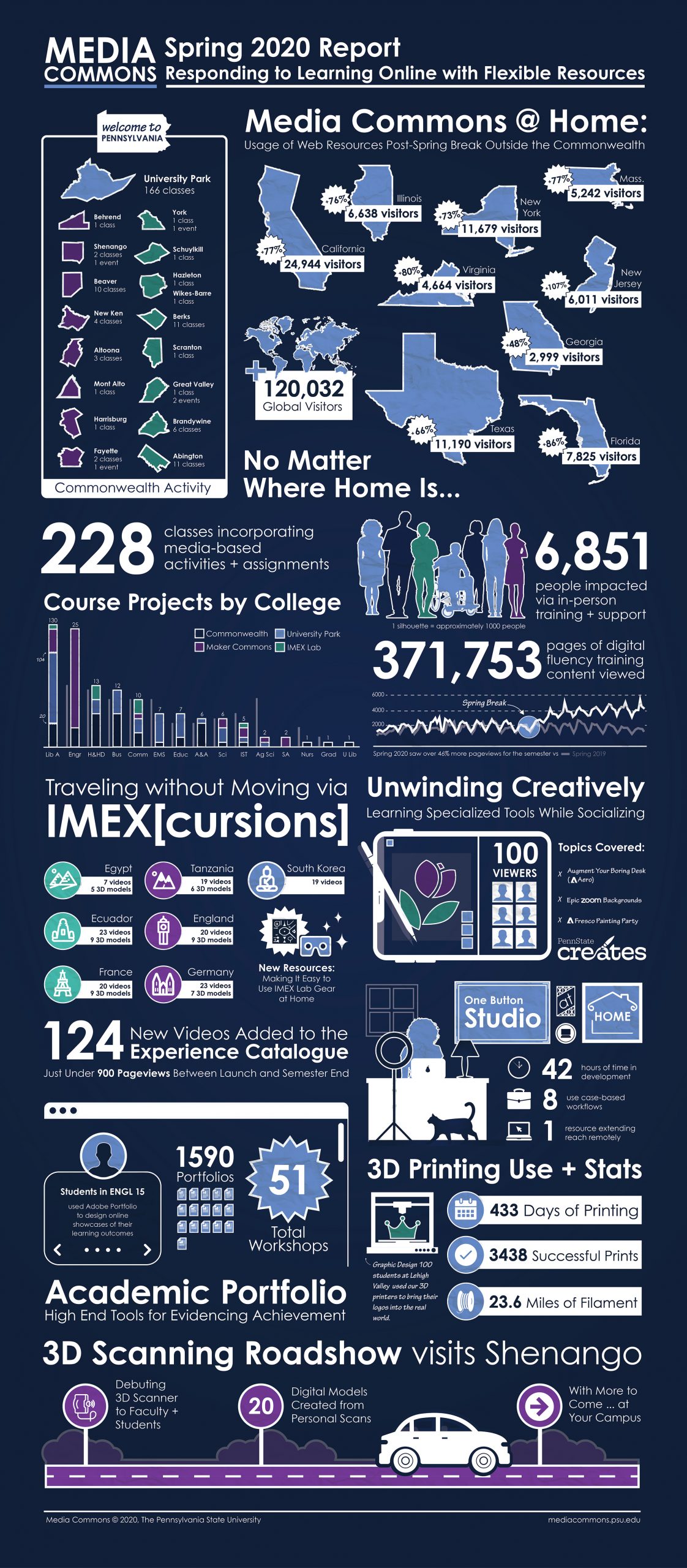 Due to the novel coronavirus pandemic that caused Penn State to switch to remote learning beginning March 16th, several Media Commons, Maker Commons, and Immersive Experiences Lab services had to quickly change processes to adjust to the new circumstances. Physically-bound services and technology like the One Button Studios, 3D printing lab, Invention Studio, and the Immersive Experiences Lab's immersive "pinwheel" theater were all closed and received no new engagements after spring break. However, despite the shuttering of all Media Commons labs at every campus, consultants and faculty were able to successfully transition nearly all scheduled workshops and projects to virtual and remote learning. 
As a result of the disruption from the pandemic, in-person consultations fell greatly during the second half of the semester which normally accounts for half of our engagement numbers in a semester. Workshop numbers held relatively stable compared to Spring 2019 despite the switch to virtual and remote learning. 
Spring 2020 saw 6,851 students and faculty use the Media Commons, Maker Commons, and Immersive Experiences Lab initiatives across the Commonwealth. Much of this use was focused in 228 classes in nearly every discipline offered at Penn State. To facilitate these interactions outside of University Park, traveling consultants visited campuses 32 times and offered 39 remote sessions to provide instruction, consultations and support.
One Button Studios at every campus were closed after spring break and the count of how many videos were created pre-pandemic remains inaccessible at this time. Before the 3D printing lab shut down after spring break, students across the Commonwealth created 3,420 3D prints in pursuit of their own curiosity and course work. 
Finally, Penn State Creates, a new engagement opportunity invented by Media Commons during the second half of the semester, engaged over 100 students, faculty, staff, alumni, and community members in remotely exploring creativity in new workshops geared around new shared experiences and contexts.
The Media Commons online resources have become the central focus of all training and support across the Commonwealth and beyond with the pivot to online-only instruction. Out of state traffic went up in almost all but one state (DC) versus Spring 2019 and overall visitorship is up over 50% year over year. From this traffic, popular content being very iMovie-focused (tutorials on these topics were the top 4 items) points to projects-in-process as being very well addressed, despite the semester disruption.
Students taking English 15 at University Park (as part of the new instructor cohort of sections) this semester were taught how to create outstanding professional academic portfolios using Adobe Portfolio. The overall class assignment required students to personalize their design themes, create and organize web pages, and create multimedia content to showcase their projects and submit work for their class. At each of the 51 workshops taught this semester, the portfolio value was demonstrated and students were encouraged to continue to add pages and content to their sites throughout the duration of their academic careers.
As the university moved to remote instruction the Media Commons traveling consultants did as well. They provided 39 remote sessions for students and pivoted 10 class projects to online options. In addition 17 classes were already using software that easily transitioned to remote instruction.
The noticeable decrease in Liberal Arts class partnerships at University Park this semester was largely due to the pandemic-caused cancellation of the regular ENGL 202C littleBits assignment.
The Shenango campus offered the first 3D Scanning Roadshow event in collaboration with a Lartz Memorial Library open house and Tiffany Petricini's CAS 271N. Students brought their personal belongings to have digitized as part of a personal narrative project – and also attended a campus presentation on a traveling African American history exhibition that used personal artifacts to tell compelling stories of race and justice in the United States. By learning about 3D scanning, students were able to envision capturing further significant personal objects to bring history to life.
This semester Penn State Berks Professor Jayné Park-Martínez challenged her EARTH 155N students to create public service announcements on earth science/environmental topics.The videos were originally going to be produced using iMovie software. When the university moved to remote instruction, the project transitioned to Adobe Spark Video. Adobe Spark facilitated group collaboration and allowed the video project to continue as planned. The students produced wonderful and thoughtful PSA videos.
Graphic Design 100 students taking Christine Galbiati's class at Penn State Lehigh Valley made use of our 3D printing services by first creating a design in Adobe Illustrator, next utilizing Tinkercad to create a 3D form from the 2D logo, then finally 3Dprinting the type/logo word. By fulfilling this assignment, the students were challenged to learn how working in different dimensions affects design actualization and also to think about how their work translates from the digital to the physical world.