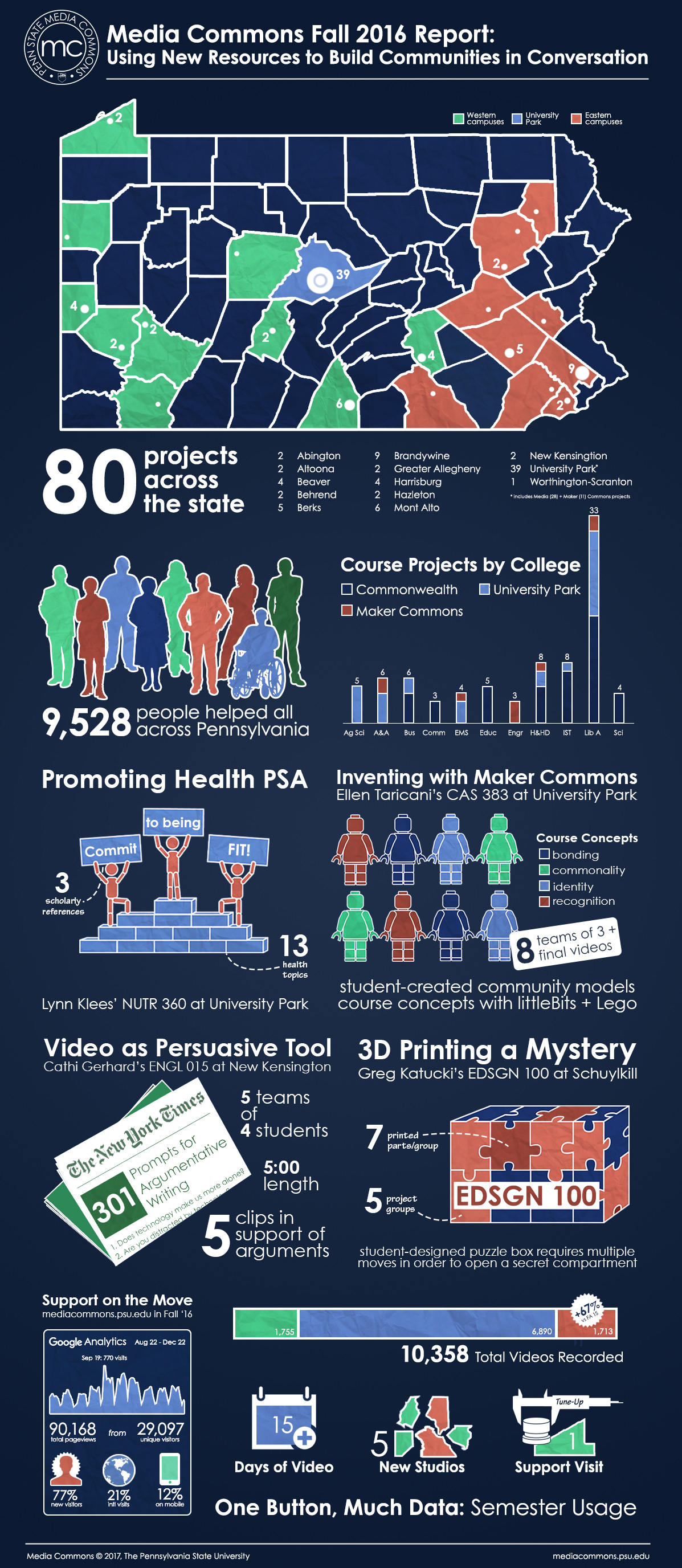 Fall 2016 saw 9,528 Penn State students, faculty, and staff use Media Commons and Maker Commons services across the Commonwealth. Student use of the Maker Commons' Invention Studio doubled from Spring to Fall and the Maker Commons continued to refine its 3D printing processes by introducing new parameters for requests (including a 30 gram mass limit) and a new way for faculty to register their 3D printing class projects. These adjustments were made to optimize the user workflow and ensure greater student success with 3D printing. More than 40 media projects were supported across the Commonwealth during the Fall term, seeing consultants zig-zagging between campuses.
Liberal Arts continues to be our most common generator of projects, both Media and Maker, though with the inclusion of the latter, Engineering, Arts & Architecture, Earth & Mineral Sciences and even Health & Human Development seem prepared to make inroads. Information Science & Technology continues to be another strong partner with Business seeing a new uptick at both the Commonwealth campuses and at University Park this semester.
Notable projects during the Fall 2016 term came from a wide sampling of courses but all shared a connective thread of creating conversations amongst students as well as building community. At University Park, NUTR 360 and CAS 383 took center stage with the former sending students our way for training and support in the creation of health-promoting PSAs while the latter engaged students with key course concepts as they built social interaction models with Lego and littleBits. At New Kensington, a new instructor's ENGL 015 built on The New York Times 301 Prompts for Argumentative Writing to craft supporting materials for in-class discussion of controversial topics. And, at Schuylkill, 3D printing allowed for complex problem-solving with peers as students designed custom puzzle boxes in small groups.
The Media Commons website continues to be a vital resource not just for our Penn State constituents but also for those around the world. 21% of Fall 2016 visitors hail from international locations. 12% of the 90,168 pageviews originated on mobile devices, a continued uptick in on-the-go site usage (and trend to be watched as we develop a new website in Spring). Of the 29,097 unique visits to our web resources, 77% were from brand new people, as one might expect for a new academic year.
The One Button Studio, a crucial piece of our growth into new disciplines across the state, was installed at five new locations for the Fall. Over 10,000 videos were recorded between all 17 active studios. This amounts to over 15 days of user-generated content in just one semester. Despite so much usage, only 1 support "Tune Up" was required at the Behrend campus. This fact hopefully points to ever-stengthening partnerships with on-the-ground staff where OBS lives.