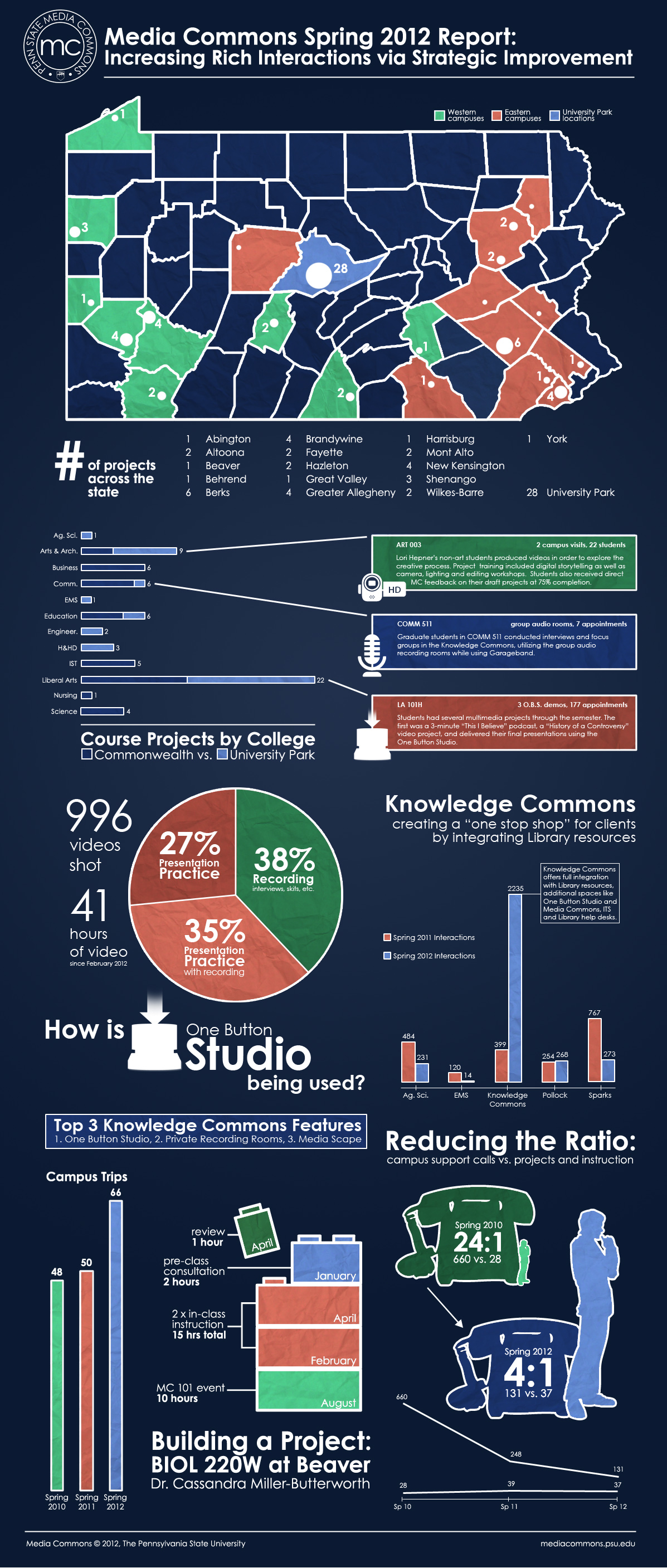 The Spring 2012 semester brought with it the culmination of many strategically planned and implemented enhancements to the way that Media Commons works with its clients across the Commonwealth. The photo above shows a visual representation of the data we collected during this semester.
With 65 active projects, Media Commons consultants supported faculty in 12 academic colleges at the University: Liberal Arts instructors partnered for 22 projects, while Arts & Architecture added another 9 and Communications, Business and Education each contributed 6.  Several campuses and colleges around the state worked with Media Commons for the first time this semester, owing to increased awareness of services and support available provided by open house and overview sessions like MC 101, an offering aimed to bring campus stakeholders up to speed with everything Media Commons offers.
The Knowledge Commons at University Park significantly increased engagement with Media Commons services during the Spring 2012 semester.  By providing a "one stop shop" for students working on multimedia research projects via its deep integration with Library resources, the Knowledge Commons quickly added hundreds of interactions to the overall University Park total.  This early data suggests that offering targeted, end-to-end services in other spaces – and encouraging further Knowledge Commons (and Knowledge Commons-like) partnerships with other campus Libraries – is a key strategy in increasing the value of the Media Commons project.
Among draws like private recording rooms and Media Scape-powered collaboration stations, Knowledge Commons also offered the first set of One Button Studio instant production spaces.  The One Button Studio was an absolute success this Spring, bringing in students who shot 996 videos in the two outfitted rooms.  Recorded presentation practice, interviews, skits and other productions made up nearly 3 quarters of all activity in the OBS, illustrating just how useful additional installations around University Park and at Commonwealth locations (both as a replacement for – and in addition to – the Media Commons studio) would be. MC consultants will work closely with the ETS One Button Studio team to implement this offering going forward.
Owing to tailored in-class training, increased campus visits and a strong alignment between service offerings and their online support via an updated website, the ratio of technical support hotline phone calls to campus projects (and associated visits) decreased dramatically for the second semester in a row. Specifically, the Commonwealth campus ratio decreased from 24:1 in Spring 2010 to 6:1 in Spring 2011 to just 4:1 in Spring 2012.  Since the students behind these phone call interactions generally only pick up the phone when they have "hit a wall", Media Commons asserts that this decrease represents far higher retention of vital information after classroom visits and a far greater feelings of self-reliance in students.
Our goal in the coming months is to continue working with our campus and college stakeholders to increase the usefulness and value of Media Commons through further programming, enhanced and innovative tools, services and spaces and strong instructional content.