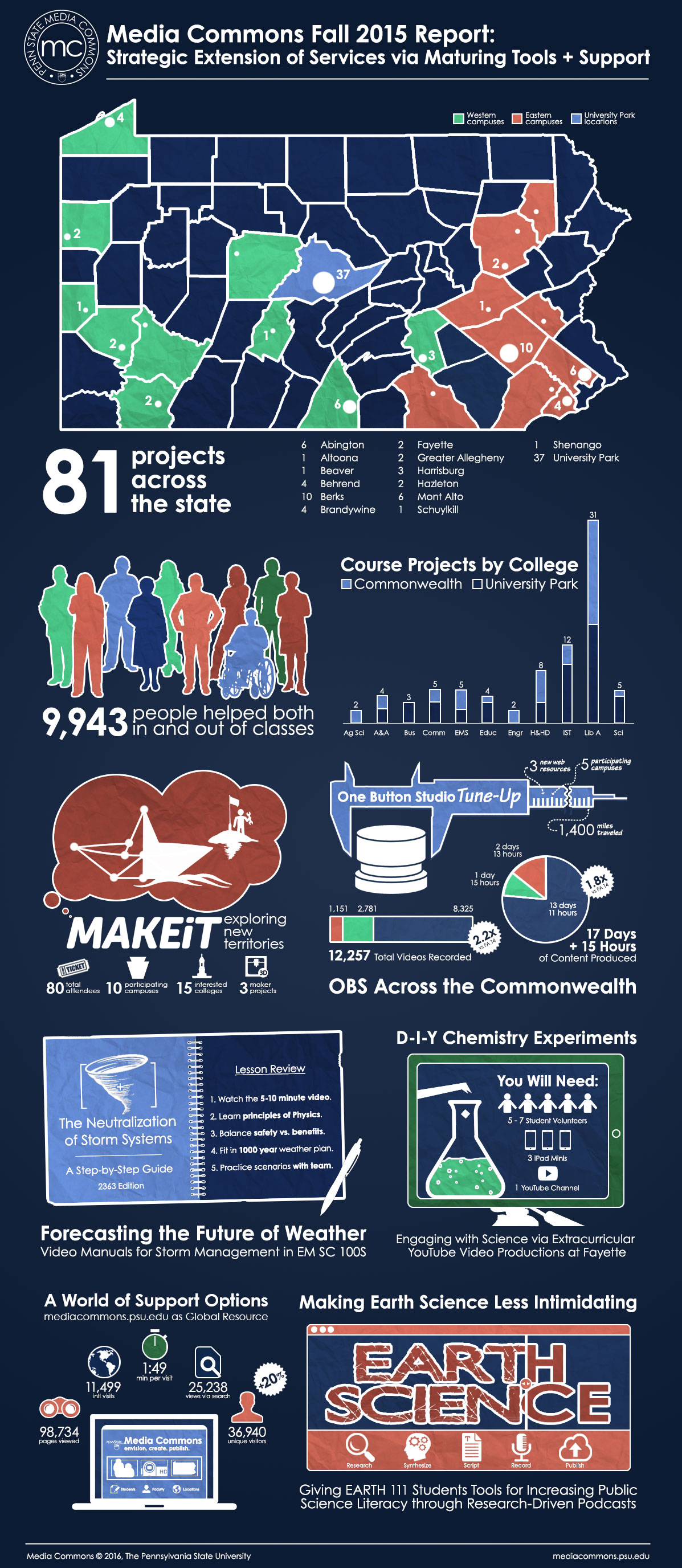 Happy 2016 – and a warm welcome to the Spring semester! Along with the activity that always comes with the start of a new term, we have been taking a close look at the previous semester, hoping to gain some insights that can help us as we move forward.
Fall 2015 was another busy one of the Media Commons team, seeing consultants working on 81 projects between fourteen campus locations. These projects accounted for 9,943 logged interactions with students, faculty and staff during in-class training sessions and through both formal, sit-down appointments and informal, stop-by-for-help settings. As in previous semesters, Liberal Arts and IST continue to be the primary disciplines fielding media assignments that account for the above stats, though Health & Human Development reclaimed the #3 spot this past Fall.
MAKEiT was about thinking collaboratively with colleagues and students, learning through making and creating solutions using innovative new tools and practices. 80 faculty and staff attendees from 10 campuses, representing 15 colleges participated in activities like 3D modeling and printing as well as rapid prototyping and learning space design and experimentation.
The One Button Studio, now in its fourth year as a supported service, logged 12,257 videos recorded, amounting to 17 days and 15 hours of content. These figures are roughly 2x higher for both figures than Fall 2014. They also represent massive growth since Spring 2012, when the first space opened in the Knowledge Commons – the forerunner of the 13 studios that are in operation today. The Fall term also marks the first full semester of offering the One Button Studio Tune-Up service to campus locations, a comprehensive, in-person overhaul of major components to ensure smooth operation for users. The Tune-Ups took place at 5 campus locations and accounted for 1,400 miles of consultant travel – while also leading to the creation of 3 significant new web resources.
Keeping with the exploratory theme of MAKEiT at University Park, students in Dr. Paul Markowski's EM SC 100S course were asked to imagine methods for actually stopping large storms like tornados or hurricanes. The only design constraints put on this thought experiment were the laws of physics – and collateral damage no worse than the storm itself. Solution were presented in the style of how-to video manuals.
Across the Commonwealth, maturing technologies played a large role in the most notable projects of the term. At Fayette, enthusiastic Chemistry students used iPad minis to record their own, after school science experiments with Dr. Sebastian Jedzowski. Their three device set ups are collaboratively edited and a YouTube channel is being created to house the group's extracurricular lab work. And, at Brandywine, Dr. Laura Gertie's EARTH 111 class used the tried and true podcasting concept to create highly useful audio projects that make Earth Science concepts easy to understand for a lay audience.
The Media Commons website grew its audience by 20% since Spring 2015, amassing nearly 37,000 visitors who viewed almost 99,000 pages of content. As with each semester after its re-launch in Spring 2013, the MC site has continued to gain international traffic, this time picking up 11,499 foreign visitors between the end of August and end of December. It is our belief that efforts to continually streamline content presentation helped drop time on site by 8 seconds year over year while search traffic increased by almost 2,000 views in the same period, pointing to more globally relevant materials.
To get further details about everything mentioned above and more, download our full report: