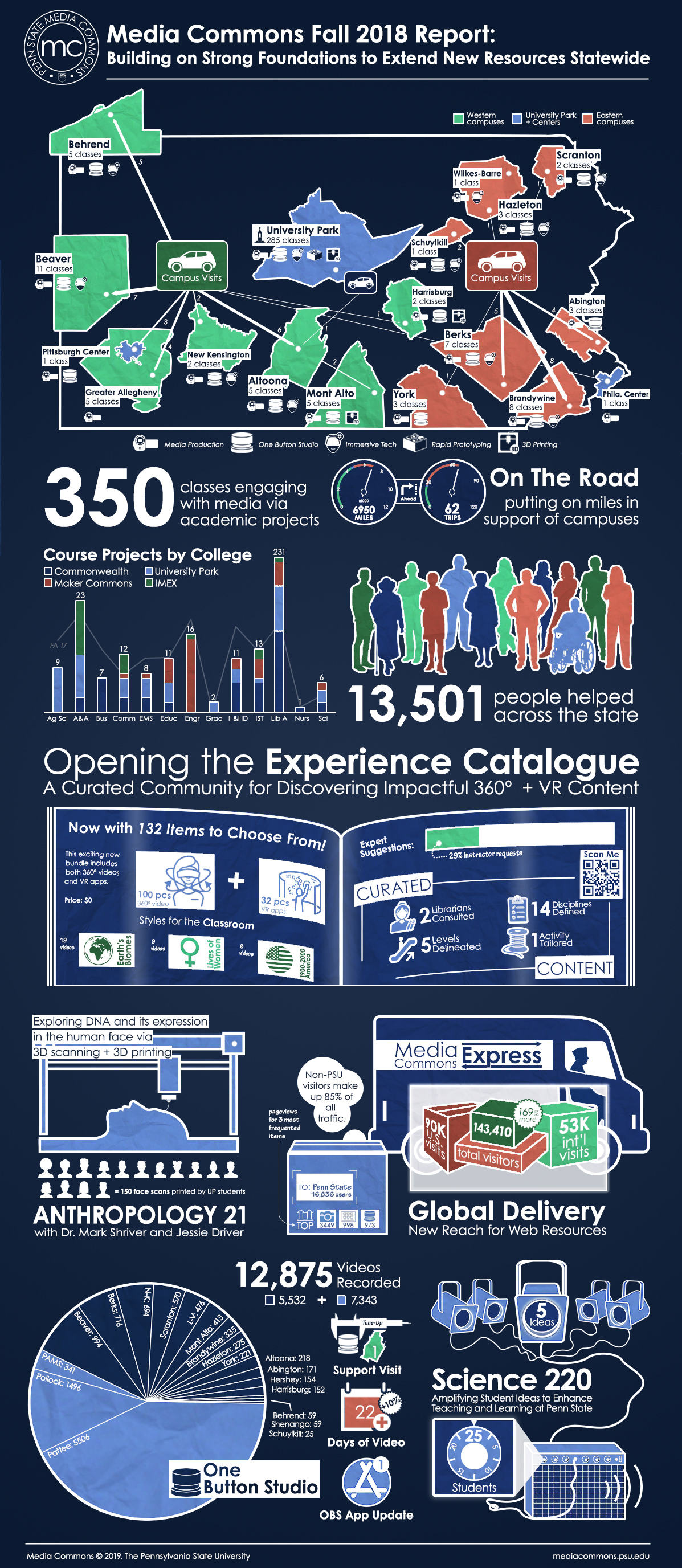 Fall 2018 saw 13,501 students and faculty use the Media Commons, Maker Commons and Immersive Experiences Lab initiatives across the Commonwealth. Much of this use was focused in 350 classes in nearly every discipline offered at Penn State. To facilitate these interactions outside of University Park, traveling consultants visited campuses 60 times to offer instruction and consultations.
One Button Studios at 18 campuses helped students and faculty create 12,875 academic videos, comprising over 22 straight days of video. Students across the Commonwealth also created 2,465 3D prints in pursuit of their own curiosity and course work.
In an effort to bring meaningful immersive experiences to a wide variety of students, Nick Smerker worked with Dan Getz and metadata specialist, Ruth Tillman and reference librarian, Amy Rustic to create the Experience Catalogue, a library of 360º video and VR content. Starting with an eye towards reaching all disciplines represented across the University's colleges, consultants selected the first 93 examples and then opened up a call to instructors to suggest topics they would like to use in their own classrooms. Currently, 32 instructor suggestion have helped to grow the Catalogue and have been or will be used in AFAM 409, WMNST 197N and BIOL 220W. It is expected that further suggestions will continue to expand the resource's reach for other instructors across the Commonwealth.
Students form Mark Shriver's ANTHRO 21 course at University Park attended a Tinkercad workshop with pre-scanned models of their own faces. The students then 3D printed their modified models in coordination with ongoing research efforts with Dr. Shriver.
The Media Commons website seems to be undergoing
(continued) a transformation from a largely inward-facing tool to a global resource for information about video and audio production. While usage within the university audience has remained stable, increased visitation from literally everywhere else continues growing rapidly. The number of unique visitors reached 143,410, an increase of 169% from the Fall 2017 semester. Just 21,016 users originated in Pennsylvania, allowing for the rough inference that about 15% of website traffic was from Penn State students (and faculty/staff). Within Pennsylvania, 16,833 users visited our homepage while the top five other resources were: the Free Media Library (3,449 visitors), Storyboarding tutorial (998), One Button Studio faculty resource (973), Spark tutorials (284), and Video Production Tips (282).
This semester brought on board a new developer for the One Button Studio, and with him came a new version of the OBS app. The new version addressed a major change in the way automatic lighting functions in the studio, as well as minor requests that we had received over the years. The app was made available – for free, as always – on the Mac App Store, and we began rolling out this new build to all of the Commonwealth campuses. Our OBS support documentation was also updated to reflect these new changes and features.
For her SC 220 course, Dr. Jenay Robert had her students create Spark pages to pitch their ideas of how to improve teaching and learning at Penn State. Using various forms of media, research, and the tools within Spark, groups of four or five students identified a problem facing our university, explained what makes it important, and offered a possible solution. These ideas were then presented to the relevant stakeholders at Penn State.