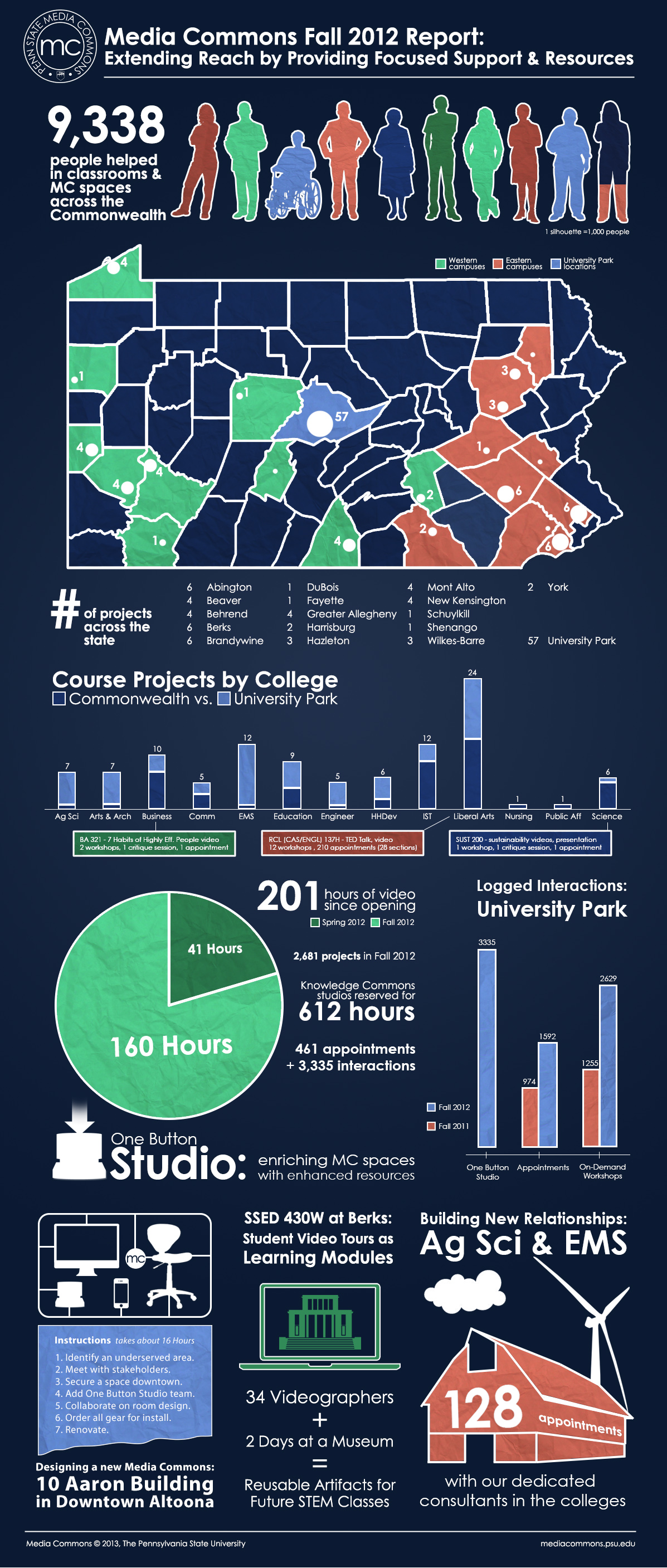 Fall 2012 was another busy semester for Media Commons – one that saw consultants help over 9,000 people across Pennsylvania. The term brought with it much focused effort to establish new relationships with relevant stakeholders as well as strategic development of new resources along with the normal collaborations with our student, faculty and staff clients.
Through 111 projects across the Commonwealth, Media Commons consultants supported faculty in 13 academic colleges at the University. As in the past, Liberal Arts instructors partnered for the most projects, with 24, while Earth and Mineral Sciences rose to tie Information Science & Technology for the second position with 12 each. Business and Education were the next most active departments, bringing 10 and 9 projects to Media Commons respectively. The success of EMS in particular is owed to concentrated relationship building efforts provided by consultant time dedicated to the college.
The Spring 2012 semester report indicated that One Button Studio had created a major surge of new appointments for the Knowledge Commons, the first installation among University Park locations. The trend continued in Fall 2012, with 461 appointments resulting in 3,335 client interactions which produced 160 hours of video content. These appointments accounted for 612 hours of reservations for the unique Media Commons spaces within the Library at UP.
Looking forward, Media Commons anticipates a growing need for One Button Studio facilities and flexible spaces for research, production/presentation and editing like Knowledge Commons across the Commonwealth. To this end, consultants have been working with stakeholders at campuses including Altoona, Harrisburg, Mont Alto, Abington and University Park to create more of these simplified video studios that are tailored to unique environments and populations. Many of these Fall 2012 collaborations will bear fruit during the Spring 2013 semester.
Another area in which Media Commons continues to provide focused support to the Penn State community is through in-class training and on demand workshops. During the Fall, consultants offered sessions for over 2,600 participants in the On Demand workshop series at University Park as well as customized training for classes like SSED 430W at Berks. In this course, a traveling consultant helped education majors extend the reach of STEM programming by instructing students on the creation of reusable museum tour videos. Other notable courses will be detailed in our full report, downloadable below.