Free Adobe Software Penn State students, faculty and staff have access to all of Adobe's software, like Adobe Spark, free of charge. Please start here to sign up for your own account today. 
In addition to Adobe Spark, Penn State community members can also download professional tools like Photoshop, Illustrator, Premiere Pro and more.
Learn More + Sign Up
Creating Spark (Web)Page for Research Fair Poster with Spark Video Intro
Choose Create a project and then select Web page.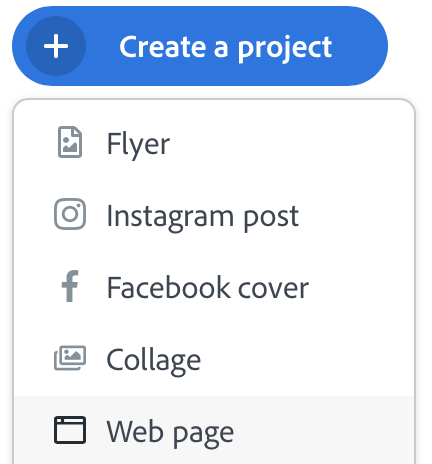 Style the header area as you see fit with a background Photo, Title and Subtitle.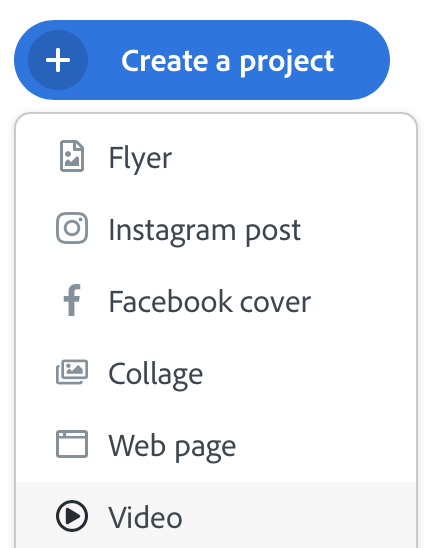 Title your video project and click Next.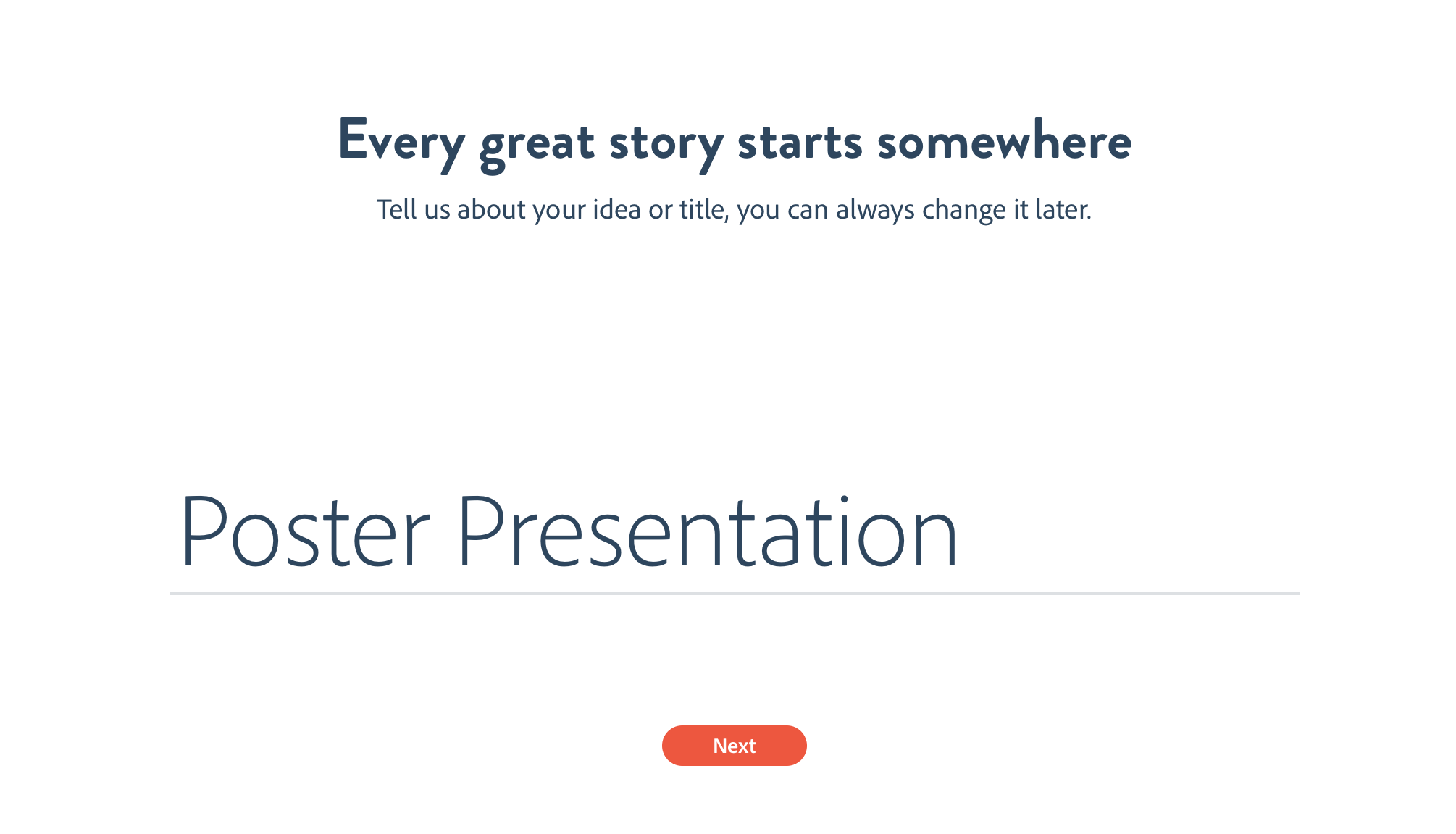 Select a story template or click Start from scratch.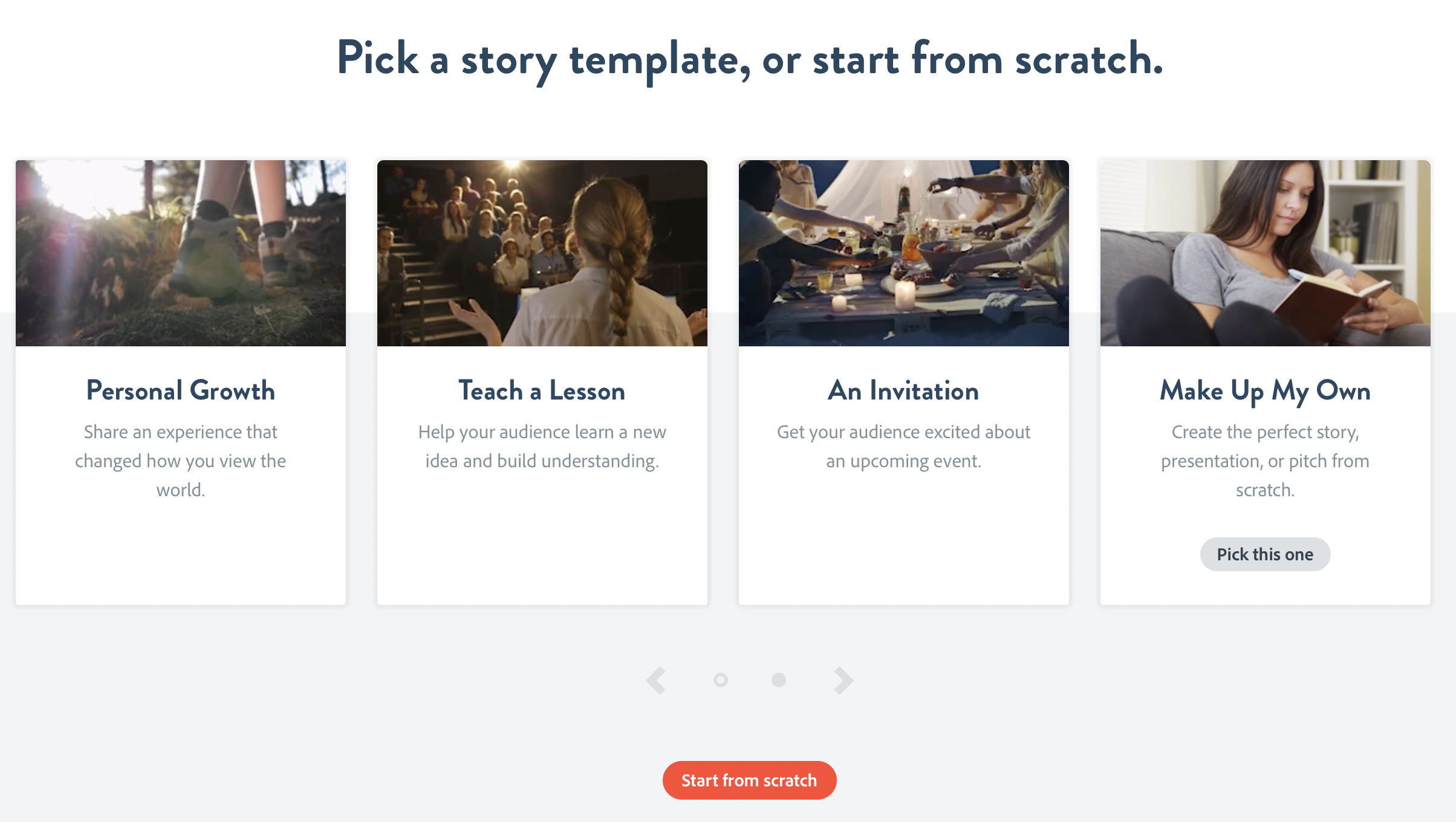 Not sure how to record a video clip with your computer or mobile phone?
Check out this
helpful guide to Pitch Videos
on our One Button Studio at Home resource.
After recording a clip using your webcam and software like QuickTime or using the front-facing camera on your mobile phone and transferring (using cable, cloud storage apps, etc) to your computer, you can upload this clip to your Spark Video project.
To do so, click the + button and choose Video.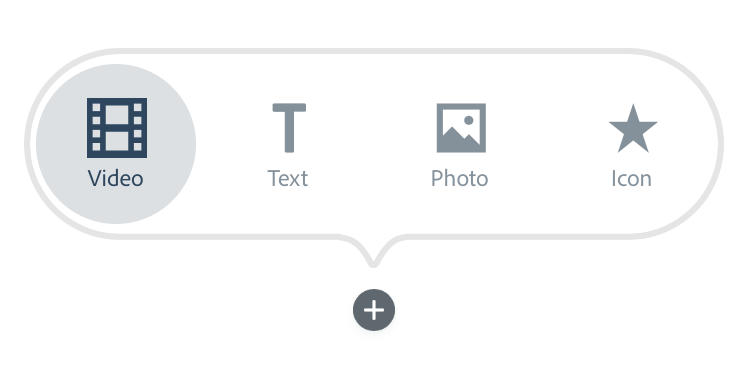 In the file browser that appears, navigate to the location of the clip you've recorded and saved or transferred. Select it and click OK.

Select how much of the clip you would like to use. If the clip is un-edited, you can trim the beginning and end here.

Spark will process your clip and display the message Saving your video clip… with a progress bar.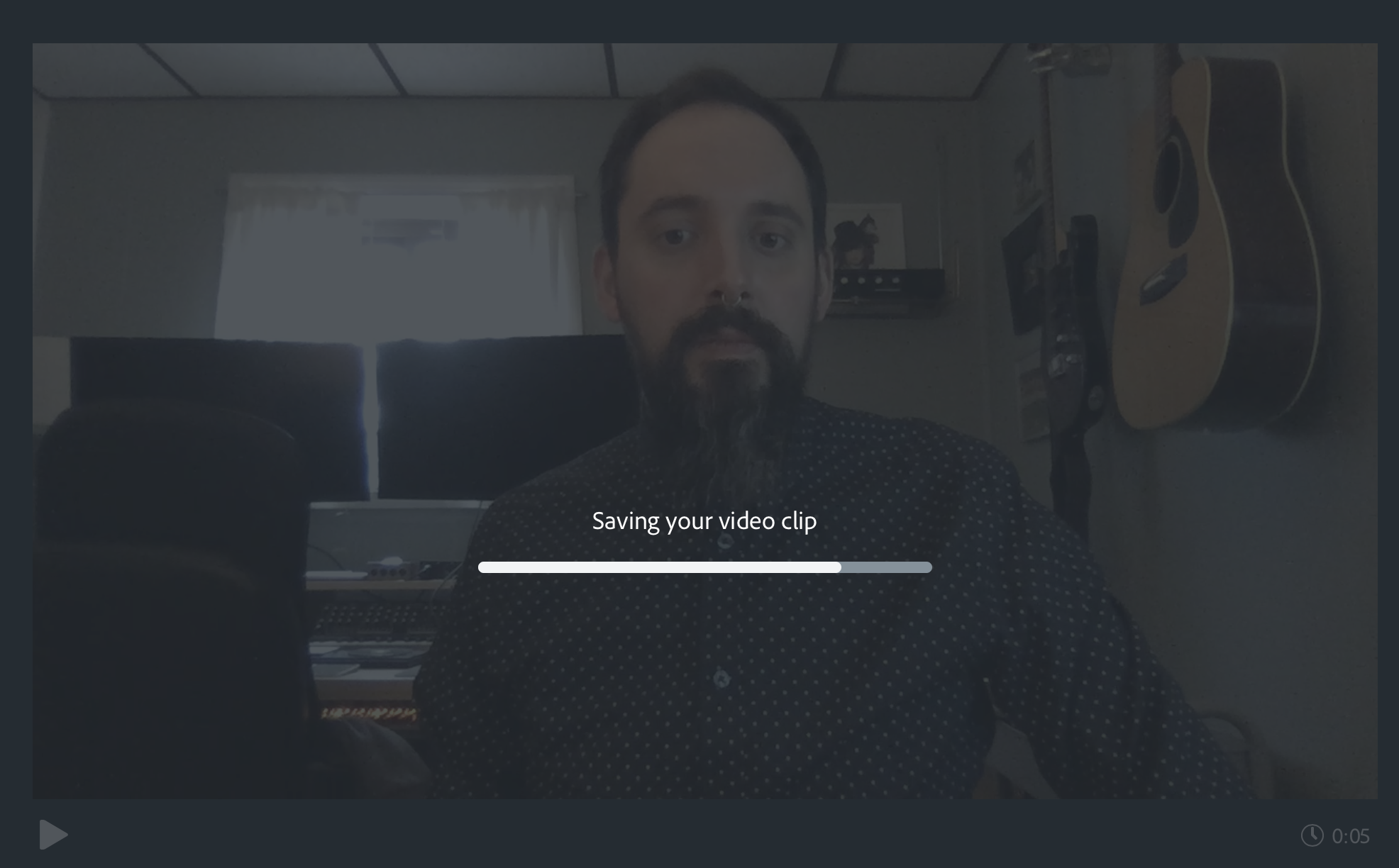 Spark adds music to your project by default. To disable this, click Music in the upper right and then click the Music on toggle so it turns grey and says Music off.

Click the Share icon at the top of the Spark window and then choose Publish.

Set your Publish options in the window that appears. Click Create link when finished.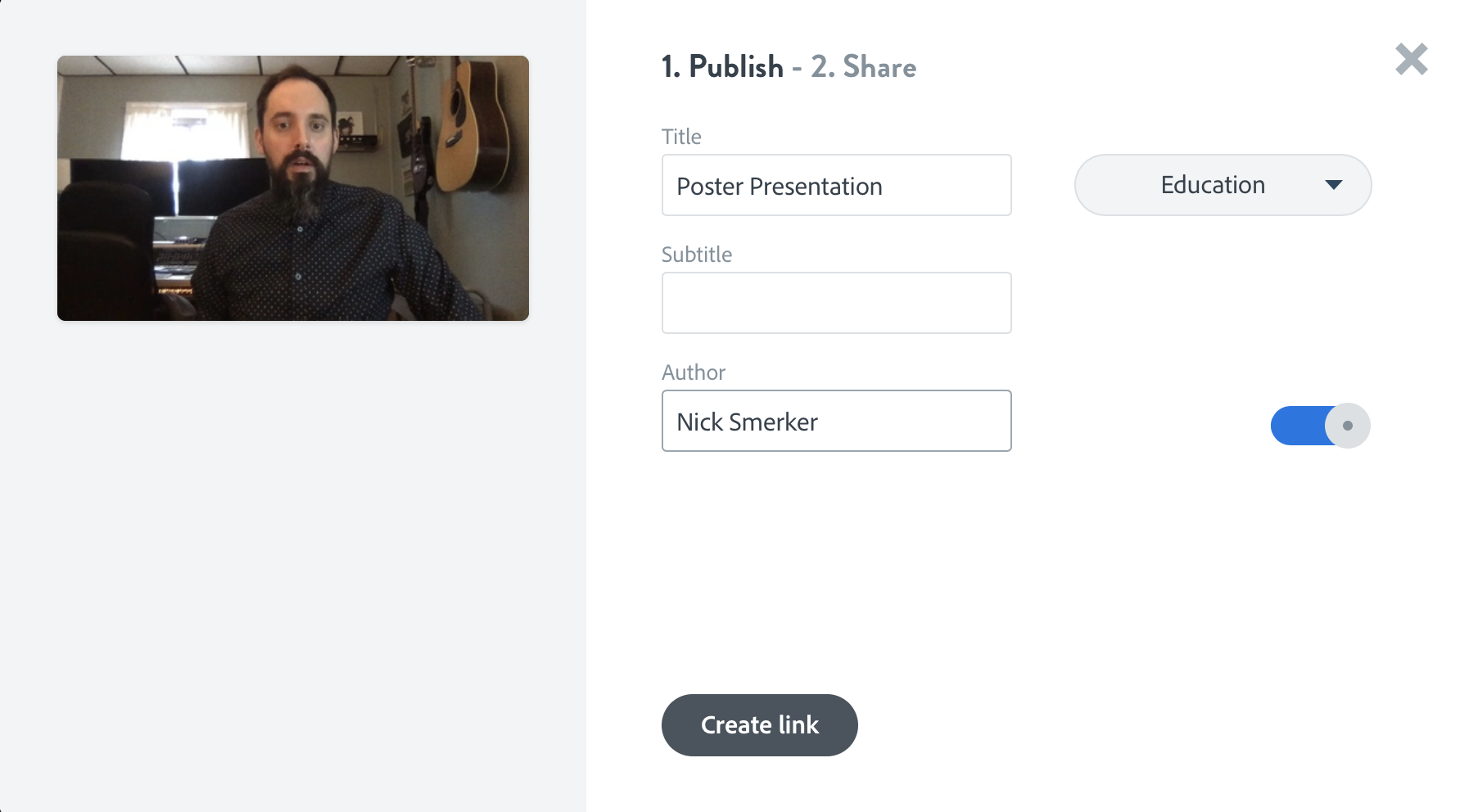 Choose Copy to add the link to your clipboard so you can paste it in our next section.
Add Video Intro to Spark Page
Visit spark.adobe.com and re-open your Spark Web page in progress by choosing it from Your recent projects.
Click the + button under your header area and choose Video.

Paste in the link you copied while publishing your Spark Video in the previous section. Click Save.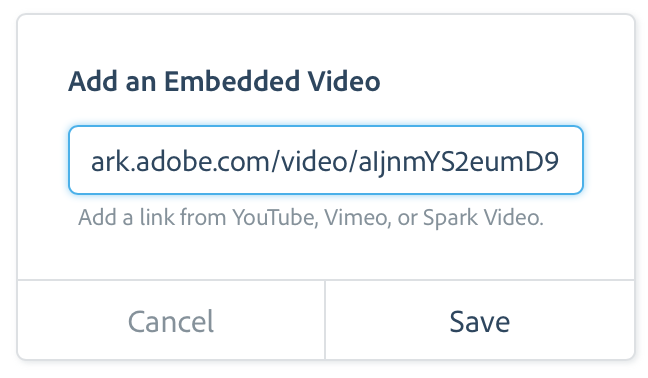 Adobe Spark Resources For those creating web pages, online video posts, social media content and more, Adobe Spark is a great, cloud-based option. With access to just a browser, students can leverage powerful design and editing functionality with little knowledge of coding or high-end software. Spark is available, also, as apps for iOS and Android devices, allowing editing on the fly wherever one happens to be.
Media Commons Tutorials
General Adobe Tutorials
Save Research Poster as Image
On a Mac
From PowerPoint, choose File > Export…
Next, in the file browser, select a location to save to and change the File Format: to JPEG.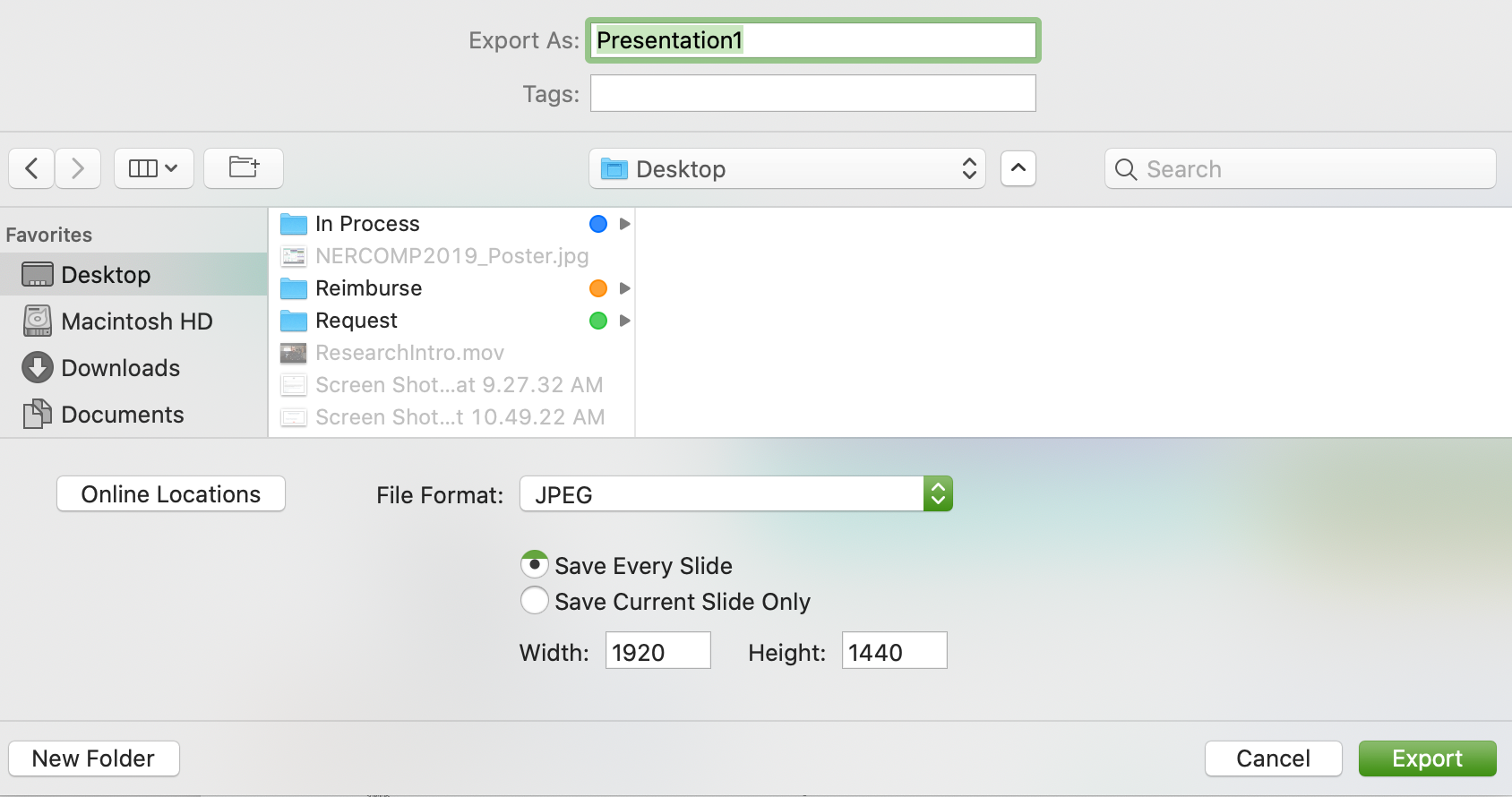 Navigate to where you chose to save your exported poster as an image and look for the folder PowerPoint created. Ensure the image looks as you intended the poster to appear before proceeding.
On a PC
From PowerPoint, choose File > Download as Images.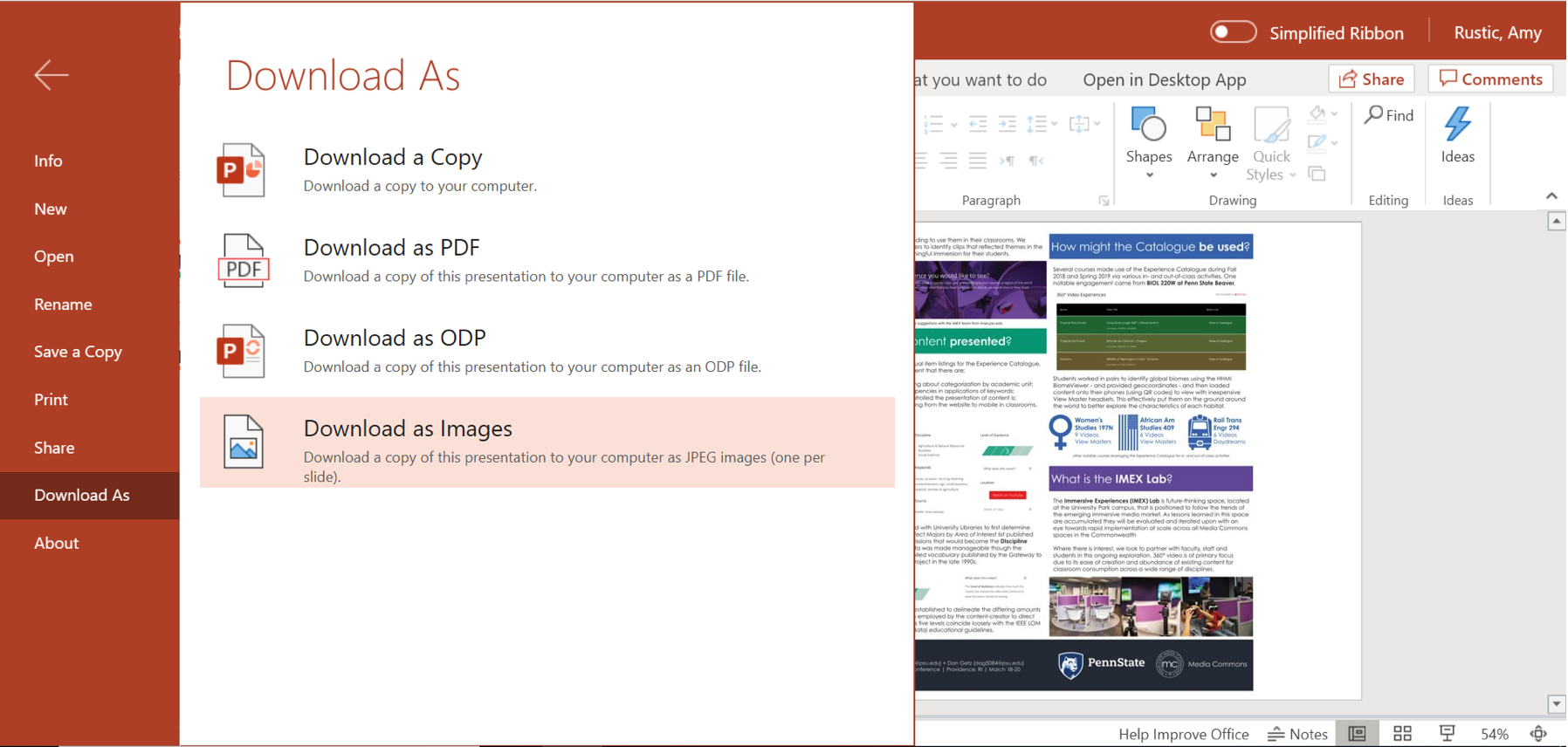 Click Download.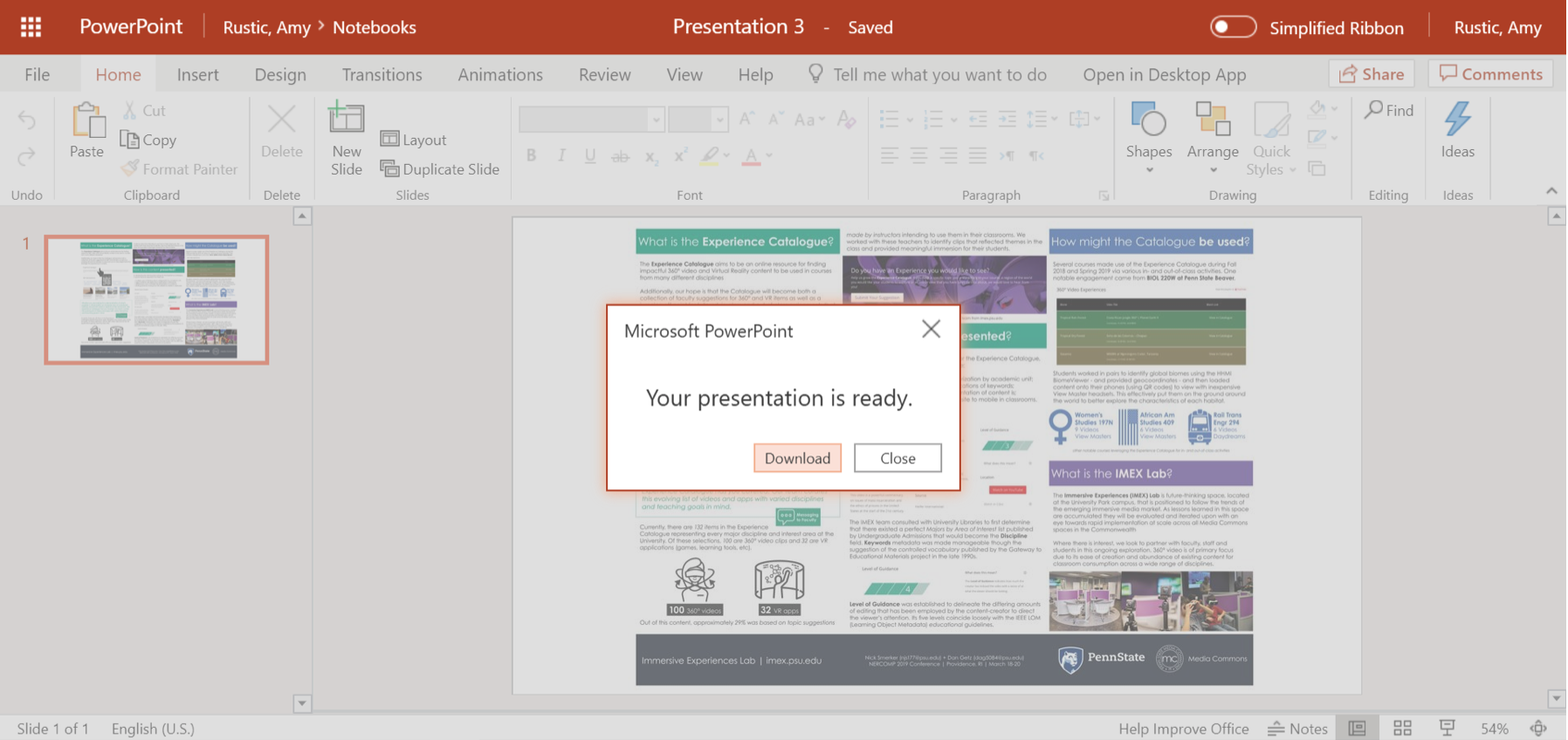 This will download as a .zip file. You can also find the folder in your computer's Downloads folder.
Click Open to see the .jpg of your slide.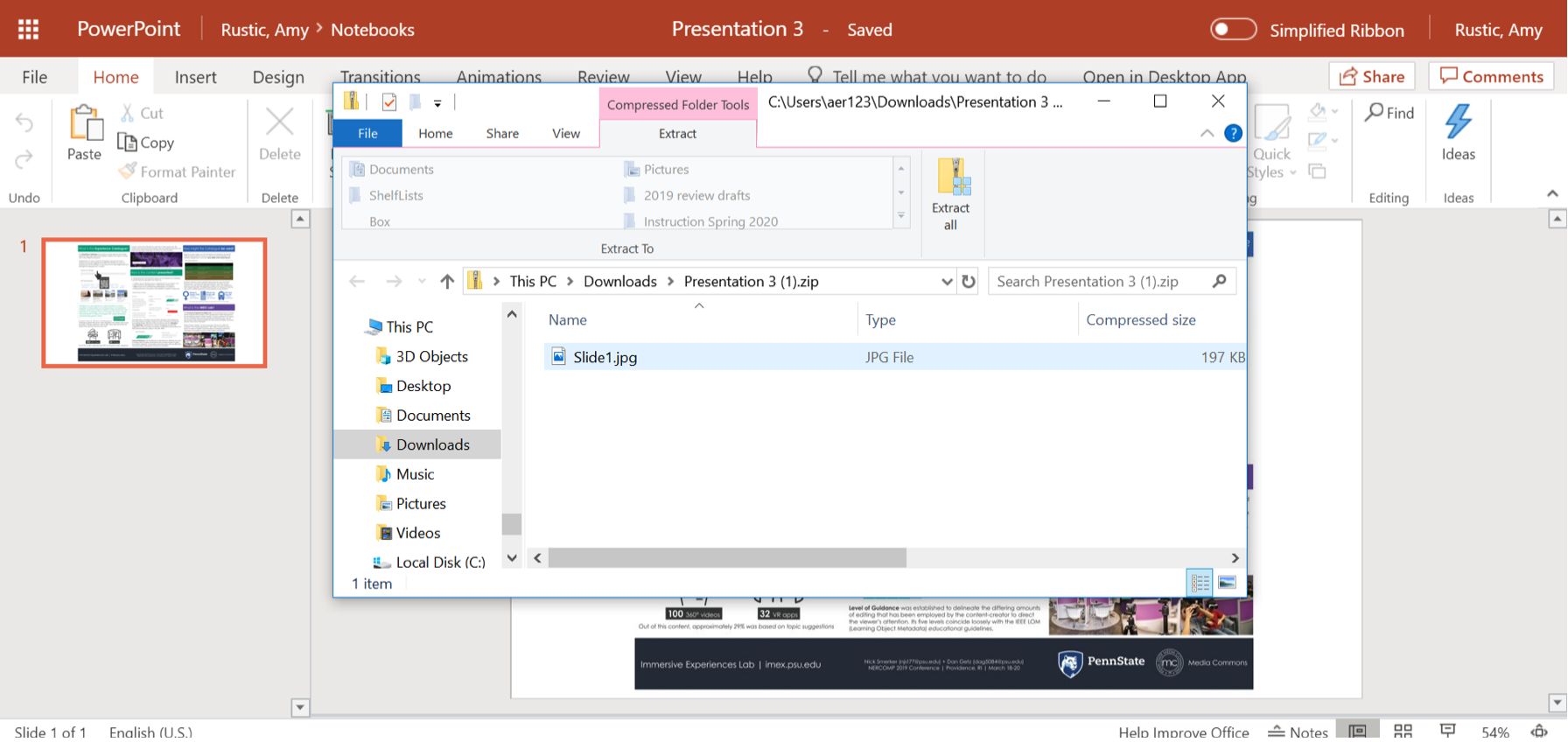 Add Poster Image to Spark Page
Click the + button under the video you previously added and then choose Photo.

Click the Upload photo button in the right sidebar that appears.

Choose the display option that you prefer. Note: Full width will give the poster image maximum priority.

Click the Share button at the top of the Spark interface and then choose Publish and share link.

Set your Publish options in the window that appears and then click Create link.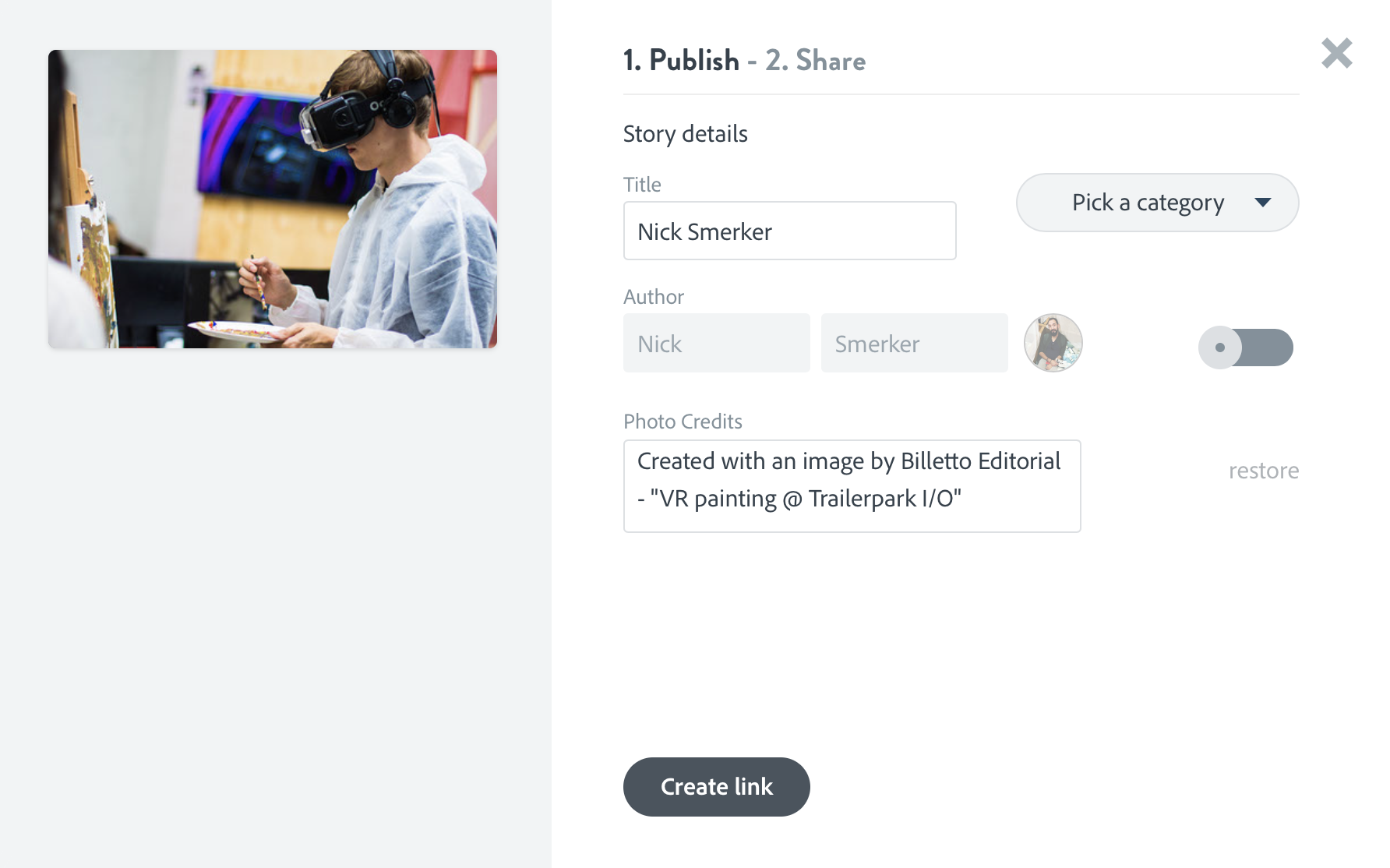 Copy the link that Spark generates. You can now paste this link into a Canvas assignment, email to your instructor, etc as needed for your Research Fair.