Storytelling through social media is a unique way of leveraging these online platforms, but your posts will still follow most of the standard social media best practices. The following section will have these and other tips for posting to social media. 
General things to keep in mind when trying to develop successful, compelling social media stories. 
Keep your posts succinct
Balance your words with strong visuals
Be consistent in your tone
Understand your target audience
Engage with your audience 
Tips for social media based on platform (Facebook, Twitter, Instagram). These factors should be considered when designing your posts.
Recommended Post Length
Facebook: Shorter is better, but medium-length posts can also occasionally be appropriate
Twitter: 70 to 100 characters total, per tweet
Instagram: Short to medium-length posts are best
Image Sizes
Facebook: 1200 pixels wide by (anywhere from) 470 – 628 pixels high
Twitter: 1024 pixels wide by 512 pixels high
Instagram: Any size! Instagram does an excellent job scaling images based on device
Are you an instructor looking to implement a social media assignment?
Social media projects can vary based on the chosen platform, and the requirements for submitting the assignment may also change based on that choice. If you have any questions, or would like some guidance on how to design a social media project, Media Commons is here to help!
Contact Us
Below, you will find some successful examples of storytelling through the three main social media platforms: Facebook, Twitter, and Instagram. It is important to recognize the benefits that each platform brings, and use those to advantages to enhance your story.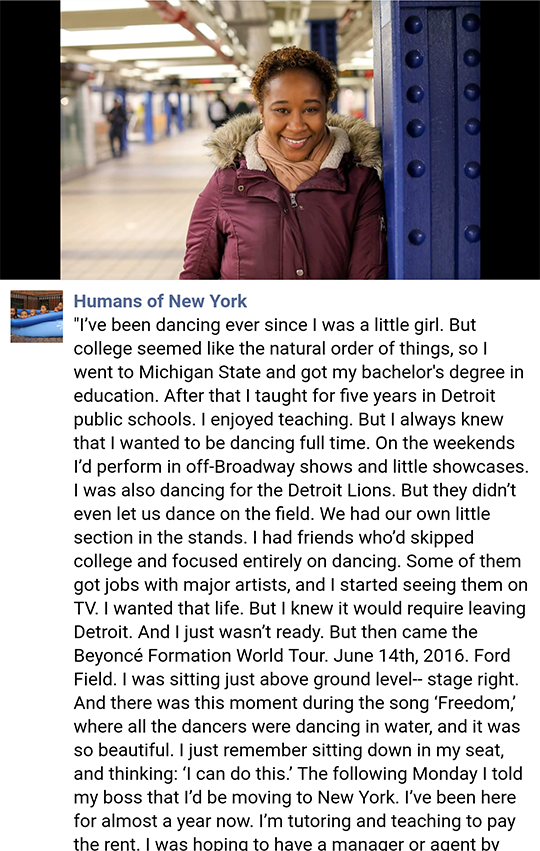 Humans of New York
Humans of New York (HONY) captures portraits of people on the streets of New York City (and occasionally other locations), and couples those photos with stories, interviews, and quotes from their lives. Garnering millions of followers and expanding internationally, HONY is a wonderful example of effective, human storytelling through social media.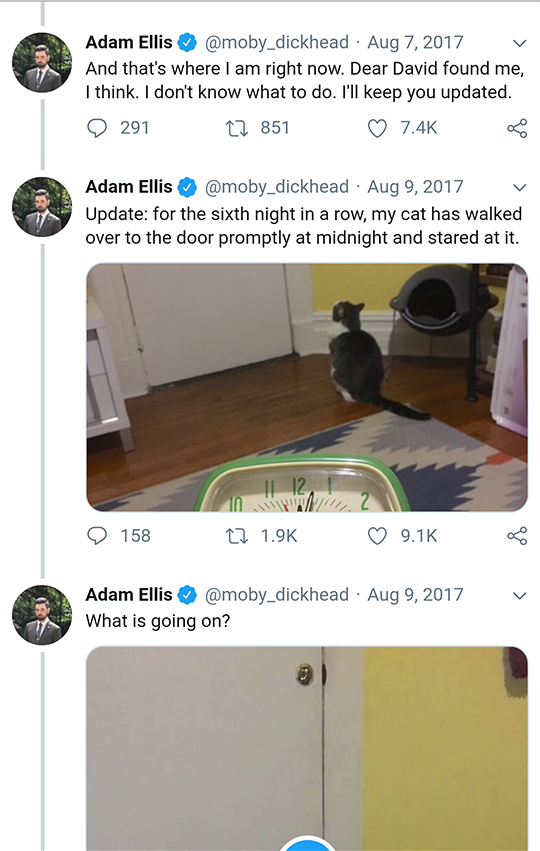 Dear David
Told over the course of hundreds of tweets and several months, Dear David tracks the saga of writer / illustrator Adam Ellis' allegedly haunted apartment. Using the Twitter format to his advantage, he includes small, continuing pieces of text, photos, video, and audio to create a compelling and unsettling story about the haunting, while also interacting with his followers; a truly creative way to tell an ongoing tale.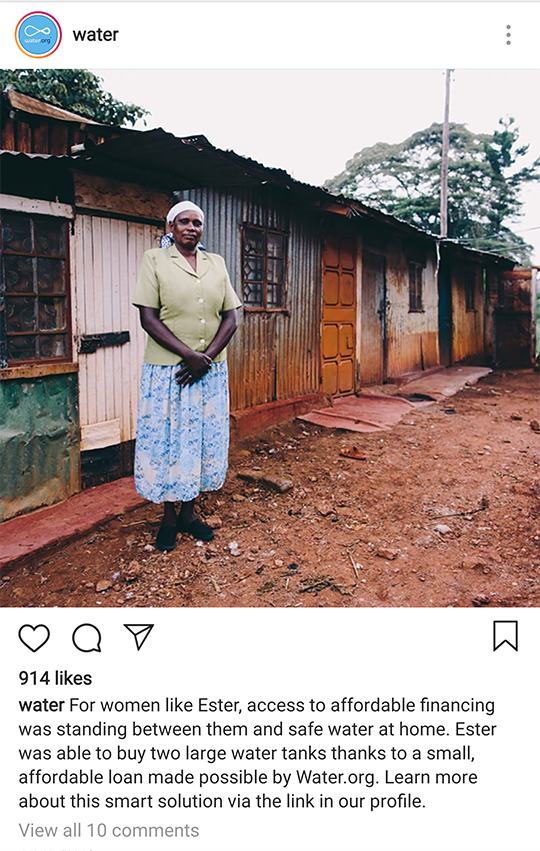 Water.org
Water.org is an organization devoted to the mission of providing clean, safe water for the entire world. To help demonstrate their efforts and create a call to action, many of their posts focus on individuals or families who could benefit, or have benefited, from access to clean water. These often include personal stories or facts about these subjects' lives, usually with a link to more information about them at the end of the post. Creating this personal connection for such a noble cause is a very effective use of Instagram as a platform.