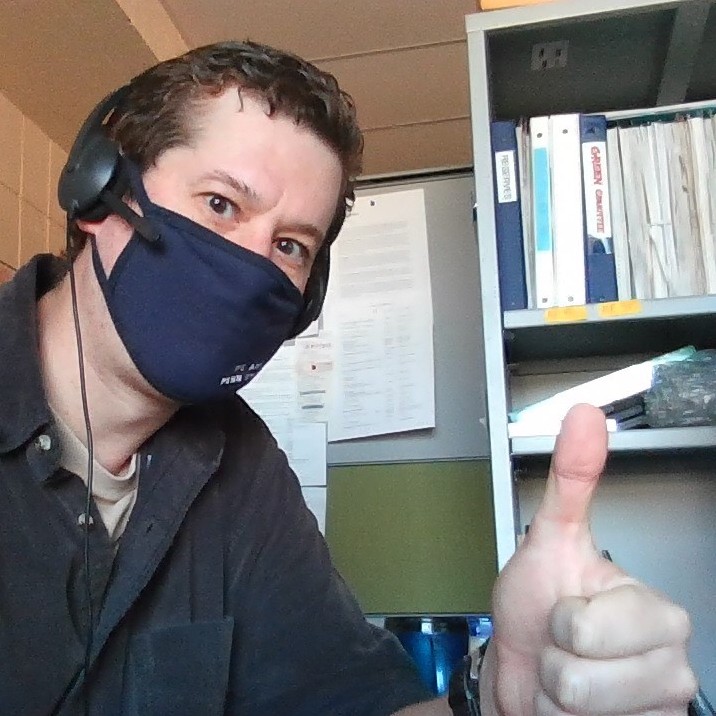 Information Resources and Services Specialist
Physical and Mathematical Sciences Library
Who are you and what do you do?
Hi, my name is Harlan. I'm an Information Resources and Services Specialist at the Physical and Mathematical Sciences Library in 201 Davey Lab at University Park. I graduated from Penn State in 1999 with a degree in Film & Video (making documentaries) and a thesis on graphic novels—and when I'm not working for Penn State Libraries I'm a freelance illustrator and art instructor. What these all have in common is my interest in finding ways to present information (especially visual information) as clearly as possible and train others to do the same. I try to apply that to my work with Libraries collections and services, but also by keeping up with what's happening at the Media Commons and all the technologies they can offer. I stay on the lookout for new library technology as well.
What equipment do you use?
For work, I just take my Libraries-issued laptop wherever I go on (and sometimes off) campus; the portability is critical, especially during COVID. At the PAMS Library, our One Button Studio and Whisperbooth are paired with iMacs for recording and postproduction.  At home I have an iMac with Wacom Intuos tablet for all digital art and illustration. My previous job was a similar position at Penn State's Engineering Library, and I left just as we were ordering a Surface Hub. Hopefully, I'll be able to pay them a visit and try my hand at it when it arrives.
What apps are your favorite?
At work, I use the standard Office 365. I communicate within my unit using Teams, across the Libraries with Outlook, and for the Media Commons we use Slack. For digital illustration I use Corel Painter 11 and occasionally Photoshop—my work can be fully digital, or a hybrid with traditional media—but it's amazing how closely the newest programs can approximate the look of real paint, pastel, or even watercolor. When I'm standing in line or waiting for takeout, I can pass lots of time on my iPhone with Chess Tiger Pro.